White Fish With Citrus & Walnuts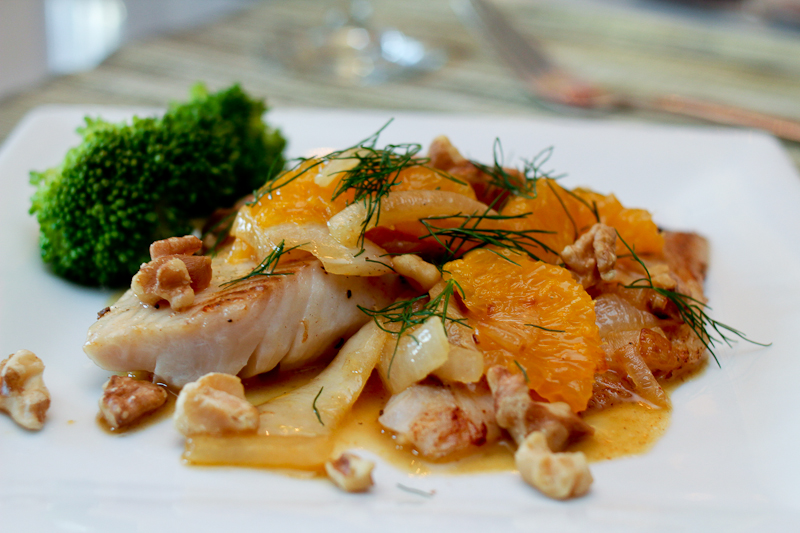 The National Board of Health in Denmark recommends that we eat fish for dinner at least twice a week.  This recipe is adapted from Healthy in a Hurry. You can have a restaurant style dinner in less than 30 min. Serve with rice.
1 orange or 1 small can of mandarins
10 oz / 280 gr white fish (tilapia, sole, cod etc.)
3 tsp butter
1 small onion, chopped
2 tbsp rice vinegar
2-3 tbsp walnuts or pecans
fresh dill, chopped
Cut the orange into segments. See note below. Or open the can of mandarins.
Cut the fish in pieces and season with salt and pepper.
Put 1 tsp of butter on a pan and cook the fish over medium heat only for a few minutes. It is done, when it is flaky.
Put the fish on a serving dish and cover with foil.
Add the rest of the butter to the pan and cook the onions a 2-3 minutes.
Add vinegar and orange sections with juices and cook a minute more.
Spoon over the fish and sprinkle with walnuts and dill.
Suggestions
Serve with rice. Toast the nuts for more flavor. If you have leftover fish, then mix it with a bit of mayonnaise and make a sandwich. Yum.