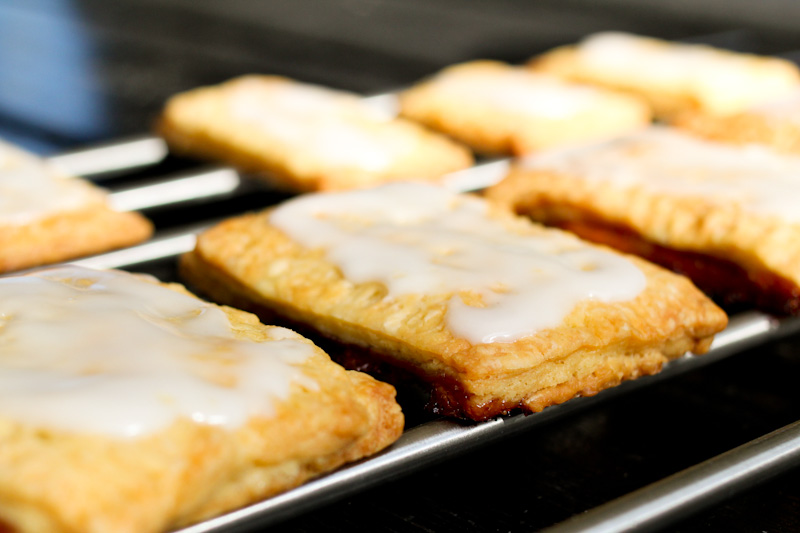 REPOST from 2012. Summer 2020 has been spent much the same. Except my US memories are further down memory lane.
***
My summer was spent well in a small cottage near the beach. Surrounded by family and friends with lots of good foods, sweets, drinks and talks. Very different from the past many summers where we cruised most of the US Western States and were awestruck by nature again and again. This summer was Danish summer at it's best.
There are no pop tarts in Denmark, so I made these for my kids. The recipe is adapted from FLOUR with warm thoughts to my friend Nikki. They are rich, flaky and simply scrumptious. My version is lighter than Ms Chang's. I have cut down on the butter, I use a whole egg instead of 2 yolks and I have cut the glaze recipe in half.
The dough
1 3/4 cups / 250 gr all purpose flour
1 tbsp sugar
1 tsp salt
5 1/4 oz 7 150 gr cold butter
1 egg
3 tbsps cold milk
1/3 cup jam eg. raspberry
You can use a stand mixer with the paddle attachment, a food processor, a handheld mixer or your hands. I used my hands for this one. Just be careful not to overwork the dough.
Mix flour, sugar and salt with a whisk.
Crumble the cold butter until it resembles coarse sand.
Whisk the egg and the milk together and add to the dough.
Gently work the dough until it comes together and there are no dry spots.
Wrap the dough in plastic wrap and press it down to flatten a bit.
Cool for a least 1 hour (or freeze for up to a month).
Preheat the oven 350F/180C.
When cool roll the dough into a big fairly thin sheet and cut into rectangles. You decide how many. I made 16, which made 8 pop tarts.
Spoon a teaspoon of jam on half of the rectangles, then top with another rectangle and press down the sides.
Bake on parchment paper for about 25 minutes or until golden. Baking time will depend on the size and thickness of your tarts, so judge by color for this one.
Let cool completely before glazing.
Enjoy when the glaze has set, if you can wait that long 😉
The glaze
1/2 cup / 70 gr confectioner's sugar
1/4 tsp vanilla extract or powder
1-2 tbsps water
Whisk together all ingredients. You can add more sugar if the glaze is runny or more water (by the drop) if too thick.