Rhubarb Raspberry Crumble Bars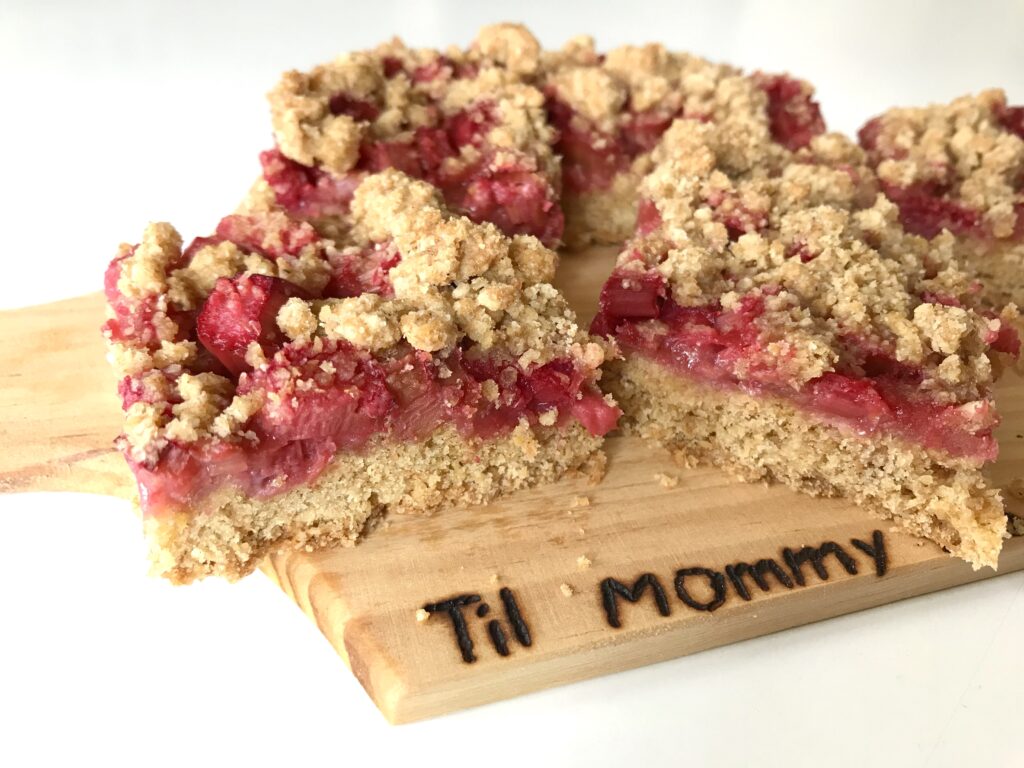 As you might have noticed, I love rhubarbs. The taste. The color. The tartness. Bring it on!
The recipe may seem long, but it really is quite simple. You use the same dough for the crust and the crumble and make it in a bowl with your hands. Then you prepare the fruit filling in another bowl. That's all there is to it.

The bars are not sweet as cake and because of the whole wheat flour and all the fruit, they are wholesome enough to enjoy for breakfast or as a nice treat in the lunch box -or any other time of the day. If you want more cake like bars, then go ahead and use a full cup of sugar.
You don't have to use to different flours or sugars, if you prefer to keep it simple.
FOR CRUST & CRUMBLE
2 cups / 5 dl all purpose flour
1 cup / 2.5 dl whole wheat flour
1/2 cup / 120 ml brown sugar
1/4 cup / 60 ml white sugar
1 tsp baking powder
1/2 tsp vanilla sugar
1/4 tsp salt
7 oz / 200 gr butter, cold
2 eggs
FOR FILLING
14 oz / 400 gr rhubarb
3.5 oz / 100 gr raspberry
3 tbsps sugar
1 tbsp corn starch
1 tsp lemon juice
Turn your oven to 375 F / 175 C
Prepare the crust and crumble by combining all the dry ingredients in a medium-sized bowl. Stir lightly until mixed.
Cut the butter into cubes and crumble it into the flour.
Add the eggs and simply stir into the dough. You may want to use your hands to distribute the eggs well. The dough should still be coarse and crumbly,
Scoop 1 cup of the dough and set aside.
Line a pan with parchment paper and press the dough into the pan.
Wash the rhubarbs and cut off both ends. Cut the stalks into small bites.
Add the raspberries to the rhubarbs. Then add sugar, corn starch and lemon juice. Toss to combine.
Pour the fruit filling into the pan with the pressed dough and sprinkle the remaining cup of dough over the fruit filling as topping.
Bake for app. 40 minutes until the crumble is nice and golden.
Let cool and cut into bars.
Store in the fridge for 2-3 days or freeze for longer storage.