Amazing Colorful Quinoa Salad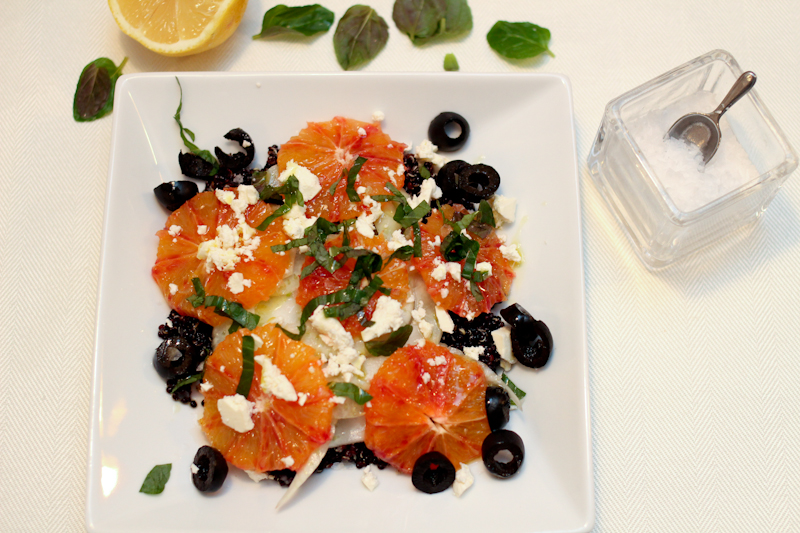 This salad is light, full of flavor, beautiful and so simple. I saw this version on the inspiring site of Chef Marcus Samuelsson. I added the quinoa and feta cheese to turn it into a meal rather than a side dish – and it is a keeper for sure. Don't worry about cooking more quinoa than you can eat. Try quinoa for breakfast for a nice change.
#funfact Blood oranges are in season right now. The temperature affects the color of the blood oranges. The colder the temperature, the deeper maroon color the blood oranges will develop. Apparently it's been a warm winter in Sicily this year.
Amazing Colorful Quinoa Salad
1 cup / 2.5 dl quinoa
1 fennel bulb
3 blood oranges
1/4 cup / 60 ml black olives
2 tbsps feta cheese, crumbled
A small handful of mint
2 tbsps olive oil
Juice from 1/2 lemon
Flaky salt
Procedure
Cook the quinoa according to instructions.
Finely slice the fennel.
Cut the peel of the blood oranges and cut circles, because blood oranges are too pretty to cut into segments.
Simply layer the salad: start with quinoa, then fennel, blood orange slices, olives, feta and mint.
Drizzle with olive oil and lemon then sprinkle the flaky salt and serve.