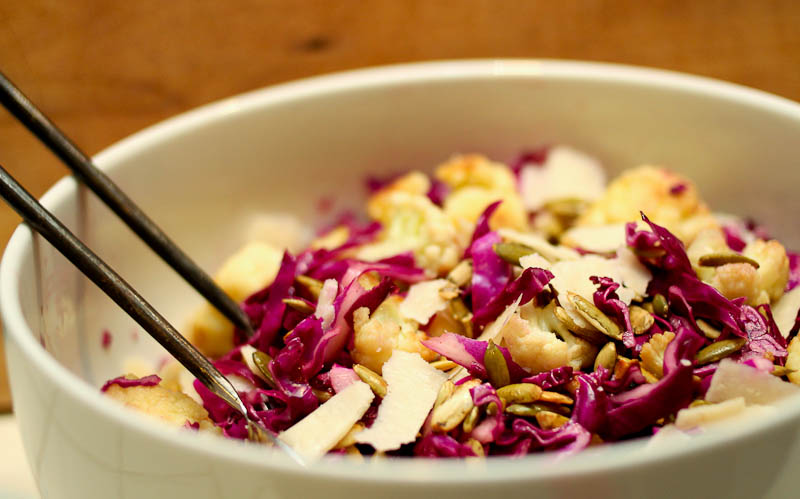 It is still the season for cruciferous vegetables such as cauliflower, cabbage, brussel sprouts bok choy, broccoli and similar green leaf vegetables. They are high in antioxidants and loaded with vitamins, minerals and fiber. This winter salad packs 2 in 1. Enjoy and feel good!
 1 cauliflower, cut in bouquets
1 tbsp olive oil
1/2 small red cabbage, thinly sliced
1/3 cup / 80 ml cranberries, dried
1/3 cup / 80 ml pepitas, dry roasted (pumpkin seeds)
Parmesan to taste
Honey mustard vinaigrette dressing
3 tbsp olive oil
2 tbsp lemon, fresh squeezed
1 tbsp honey
1 tsp mustard
garlic, optional
salt, pepper to taste
Fry cauliflower bouquets in 1 tbsp of olive oil for about 10-15 min. Season.
Slice the red cabbage and mix in a bowl with the remaining ingredients incl. cauliflower.
Mix dressing together and pour over the salad.
Top with shaved parmesan.
Suggestions
Shave parmesan using your veggie peeler. This salad is filling enough to eat as a vegetarian main dish served with bread. You can add extra nuts eg. walnuts or roasted almonds.