Salmon Soba Soup With Black Sesame Paste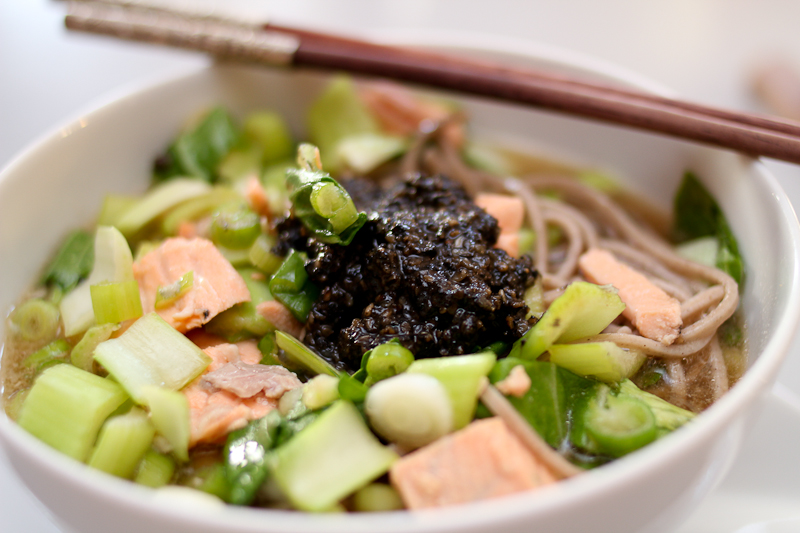 I first saw black sesame paste on 101cookbooks.com and I just thought the shining black paste looked stunning. I have played around with several different versions since and this is the one I like the most. As Heidi writes in her post, the black sesame otsu is very versatile and it really takes this super easy weekday soup to the next level. Thanks Heidi!
5 cups water
1/4 cup soy sauce
1/4 cup mirin
1 pack dashi powder (0.35 oz / 10 gr)
Salt to taste
1 bunch of bok choy, sliced
1 bunch of green onions, finely sliced
Salmon, 1 pound cut into cubes
Bring water, soy sauce and mirin to a boil.
Add dashi powder and salmon cubes and turn the heat to low.
Then add the veggies and let them simmer 1-2 min. I like them to stay fairly crisp, but not completely raw. Make sure the salmon is done before turning off the heat, it cooks fast. Enjoy!
Black sesame paste
4 tbsp black sesame seeds
1 tbsp sunflower seeds
2 tbsp soy sause
2 tsbp rice vinegar
1 tbsp sesame oil
1 tbsp mirin (or white wine + t tsp sugar)
1 tsp maple syrup (or other liquid sweetener)
Roast sesame seeds over medium heat for no more than 1 minute. When you smell the sesame seeds, they are done. Use your nose.
Blend all the ingredients together with a handheld blender or food processor.
You may also like this green tea salmon soup with dashi powder.