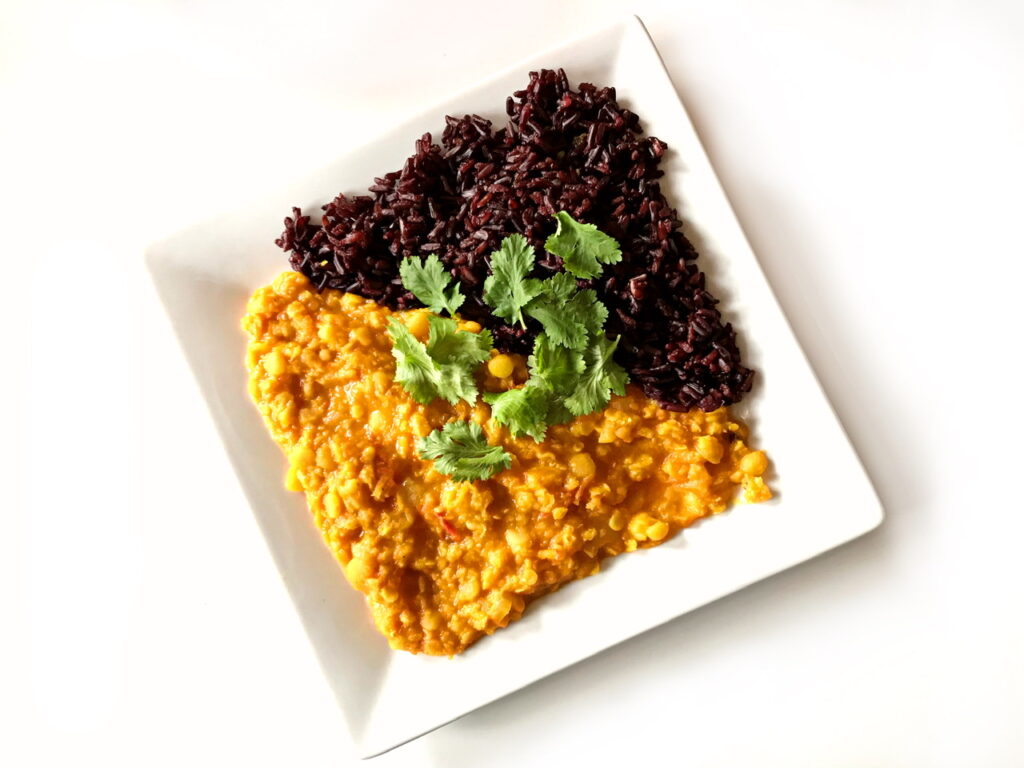 Daal or dal or dahl – a true Indian classic. Perfect weekday dinner. Meaty for the carnivores, yet completely vegan. This dish is for everyone.
1 onion
4 cloves of garlic
1/2 red chili or 1/2 tsp chili flakes
1 tbsp ginger, finely chopped
1 tbsp ground turmeric
1 tbsp curry powder
1 tbsp coconut oil
2 medium-sized carrots, shredded
2 parsnips or other root vegetables eg. turnip, sweet potato, shredded
1 can of tomates (13.66 fl oz / 400 ml)
1 can of coconut milk (13.66 fl oz / 400 ml)
3.5 oz /100 gr split peas
14 oz / 400 gr red lentils
Lime or lemon juice to taste
Soy sauce, salt & pepper to taste
Cilantro for topping
PROCEDURE
Finely chop onions, garlic and ginger. And chili if using.
Shred carrots and root vegetables and set aside.
Heat coconut oil in a large pot and add onions, garlic, ginger, turmeric, chili and curry for 2-3 minutes.
Add the rest of the ingredients: canned tomatoes, coconut milk, shredded carrots and parsnips, split peas and red lentils + 1 quart / 1 liter water.
Bring to a boil, then lower heat and let daal simmer over low heat for 30-40 minutes until the split peas are tender. Always taste to test.
Season with juice from lemon or lime, soy sauce and salt & pepper.
Serve with rice, pita bread or any Indian bread.
Top with cilantro
Serves 6
Bonus: Daal freezes well. You can leave out the split peas, but they do wonders for the texture. Add more water, if you prefer a thinner Daal. I like mine on the thick side. Namaste.