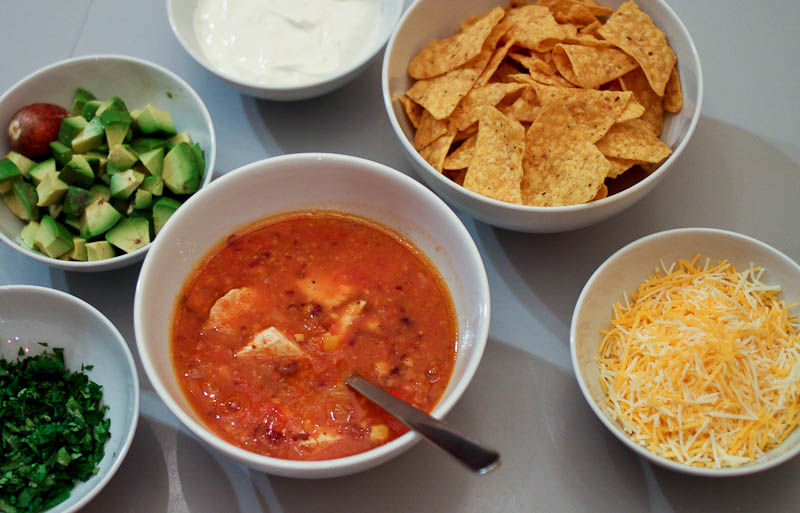 I love Mexican food and there is a lot of it here in Los Angeles. The border is only 2 1/2 hours south by car. This soup is just as good -better actually- than the restaurant versions I have eaten. It tastes very autentic and is really simple to make. You can use as many or as few toppings as you like. The original inspiration came from Healthy in a Hurry.
Olive oil for frying
1 pound / 450 gr chicken, app.
2 bell pebers, sliced
1 onion, sliced
1 tbsp ground cumin (dk stødt spidskommen)
1 quart / 1 liter chicken broth
1 can 15 oz / 425 gr tomatoes
1 can 15 oz / 425 gr corn
1 can 15 oz / 425 gr beans
juice from 2 limes
Toppings
Cilantro
Sour cream
Cheddar cheese, shredded
Avocado, cut into cubes
Tortilla chips
Cut the chicken into strips and fry in a skillet with 1 tbsp olive oil. Season. Set a side when done. 5-8 min depending on size.
Put 1 tbsp olive oil in a pot and fry sliced bell pebers and onion with cumin. 2-3 min.
Add chicken broth, tomatoes, corn, beans and lime juice. Bring to a boil and cook about 5 more min.
Blend with immersion blender (leave some chunks for texture) and add the chicken strips to the soup
Season and serve with toppings of your choice.  Buen provecho!
Suggestions
You don't have to blend the soup, it is just more chunky, if you don't. It is simply a matter of preference. Leave out corn and beans, if you don't have that ready in your pantry. It will still be good.  You can also make it vegetarian by leaving out the chicken.