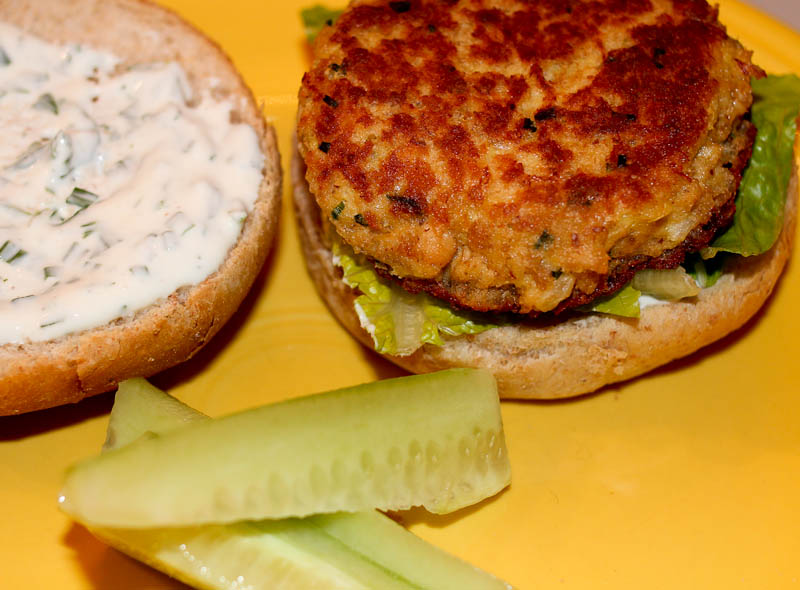 My friend Gina inspired me to make salmon burgers. I like canned tuna, but I have never really experimented much with canned salmon. However, I liked the idea of a cheap, fast meal loaded with good fats as in omega 3 fatty acids and made of ingredients that can sit in your pantry for ever. I made my own version of the recipe she had seen on tv by adding fresh chives, more salmon, more egg and less bread crumbs. Everyone in my family loved them. Bonus, the recipe makes 8 salmon patties and including 8 burger buns and sour crem dip the total cost for the whole meal came to $12, which makes one burger cost $1.50. Less or the same as a fast food burger, but so much better for you. And there was even leftovers for lunch!
2 canned salmon 6 oz or 170 gr
3 eggs
1/2 onion, minced
3 oz / 90 gr bread crumbs (I like panko)
2 tbsp chives
oil to fry
Mix all the ingredients well.
Make 8 patties and fry for about 10-12 minutes
I served the salmon burgers with herb-sour cream dip
Mix sour cream, fresh chopped herbs, lemon juice, salt and pepper.
Suggestions
Use any herbs you like both in the salmon cakes and for the dip. Adding chopped pickles to the sour cream dip would be very good. The only reason I didn't do that, was because I didn't have any in the fridge that day.