Barley Shrimp Salad With Avocado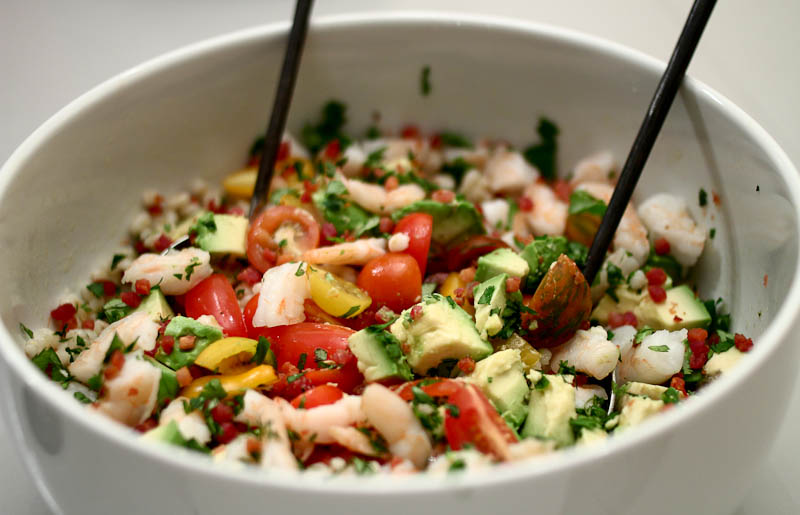 This is one of my favorite salads. It is more of a spring or summer salad, but I love it so much, I can eat it any time of the year and just pretend that it is warm and sunny. I wish I had come up with it, but it is adapted from Healthy in a Hurry. I highly recommend this cookbook! I have made many of the recipes and they have all been delicious. The original recipes calls for raw diced onion, but since my taste buds don't agree with raw onion, I have added rice vinegar to give som edge.
1 cup / 240 ml barley
6 strips bacon, chopped
20-24 cooked shrimp, chopped
1 handful of cherry tomatoes, halved
2 avocados
Fresh cilantro to taste, chopped
3 tbsp olive oil
1/3 cup / 80 ml lime juice
1 tbsp rice vinegar
Use quick cooking barley and cook according to instructions.
Fry bacon and set aside.
When the barley is done, mix all ingredients incl. bacon.
Mix olive oil, lime and rice vinegar. Dress, season and serve.
Suggestions
If you don't have lime, use juice from 1/2 orange and 1 lemon. Try substituting cilantro with parsley. If you can't find quick cooking barley, just use regular barley. It takes 1 hour and 10 min to cook, but you can cook the barley in advance and assemble the salad in minutes the next  day.