Spicy Shrimp Tacos With Avocado Cucumber Salsa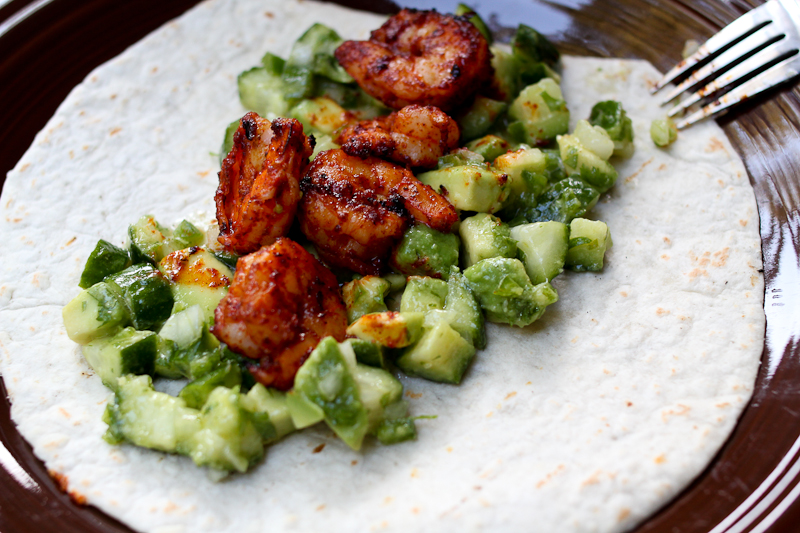 When we eat at our local Islands Burgers, I always end up ordering a fish taco with cabbage. This is very out of habit for me, because I usually order something new, something I have never or would never cook at home. This is the exception. I am not crazy about frying too much at home, simply because it makes my kitchen and most of the house smell. So fried fish at home is a rare thing. When I put this dish together, I wanted a fresh seafood taco with a kick. Enjoy.
Spicy shrimp tacos
8-10 tacos (corn or flour)
1 pound shrimp (frozen & thawed or fresh), preferably deveined
2 tsp chili powder
1 tsp paprika
1 tsp sugar
1/2 tsp ground cumim
1/2 tsp salt
1/4 tsp cayenne peber
2 tbsp olive oil
salt & pepper
Skewers for grilling
Soak wooden skewers in water, if grilling.
Mix the spices, sugar and olive oil.
Rinse, peel and devein the shrimp.
Toss the spice mixture over the shrimp and make sure, they are all coated.
Heat outdoor grill or indoor stovetop to medium-high.
Put shrimp on skewers, grill about 2 min on each side or cook 3-4 min in a skillet.
Grill the tortillas about 30 sec per side or warm in oven or microwave.
To serve spoon some salsa on the tortilla, then top with 4-5 shrimp and fold.
Avocado salsa
2 avocado, medium size
1 cucumber
1 jalapeno, small
1/4 sweet onion, small
2 tbsp chopped fresh cilantro
Juice from 1-2 lime to taste
2 tbsp olive oil
salt & pepper
Cut the avocado and cucmber in small chunks.
Cut the onion and jalapeno even smaller.
Chop the cilantro and mix all the ingredients in a bowl.
Drizzle olive oil on top and squeeze the lime over the salsa.
Stir the salsa gently and season.