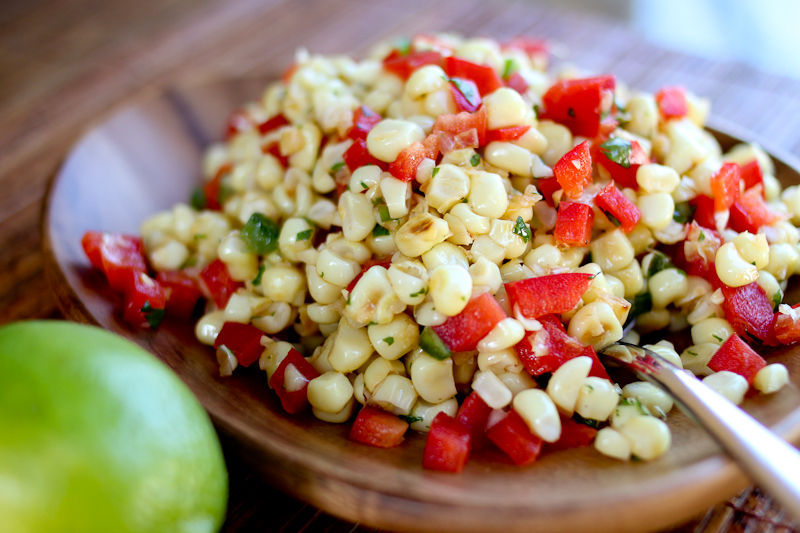 This is a classic Mexican corn salad with lime, olive oil and cumin dressing. You can add roasted vegetables and queso fresco (fresh cheese) or feta cheese. The first time I had it, was 2 years ago when my Italian neighbor brought it over for a Mexican bbq we hosted. It was love at first bite.
4 ears of corn or 2 cups / 5 dl frozen corn
1 small red peber, diced
1 fresh jalapeno
1-2 tbsp chopped fresh cilantro
1/4 – 1/2 sweet onion, finely diced
2 tbsp olive oil + 1 tbsp for frying
2 tbsp fresh squeezed lime juice (app 1 lime)
1/2 tsp salt
1/4 tsp ground cumin
pepper to taste
Cut corn kernels from the cobs and fry them in 1 tbsp olive oil until tender. App 5 min.
Chop red peber, onion, jalapeno and cilantro and put in a medium sized bowl.
Make the dressing by combining olive oil, lime, salt, pepper and cumin.
Gently stir everything together when the corns have cooled slightly.
Serves 5
Suggestions
You can add crumbled feta cheese or fresh cheese. Substitute cilantro with parsley, if cilantro is not your thing. Leftovers can be turned into a tasty salad by adding greens, tomatoes, avocado and beans.