Roasted Tomato Salsa & Quesadillas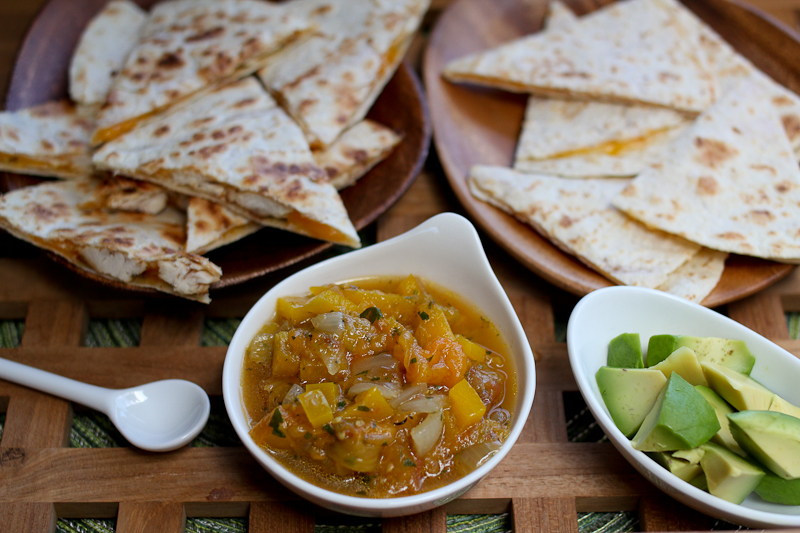 Who would have thought that homemade salsa was so easy to make?! This is the first time I have made salsa, but definitely not the last. Here is a recipe from a Better Homes and Gardens magazine. They had a special edition on Mexican food in April 2011. I made small changes to the recipe, such as adding a little less garlic, I added 1 jalapeno instead of 2 and left out the lime zest, because I didn't have an organic lime. This is a good basic recipe. You can spice it up. Make it exotic with mango or pineapple chunks or I have even seen salsa with black beans, you can take it from here. Buen provecho!
In the picture is quesadillas with cheese and with cheese & chicken. Simply cook flour (or corn) tortillas with shredded cheese on a pan over medium heat until golden. Don't put any oil or butter on the pan. You can fill them with anything. Make it a simple appetizer or stuff the quesadillas and turn them into a meal.
Roasted tomato salsa
5 medium tomatoes, halved (I used 3 large heirloom tomatoes instead)
1 small onion, sliced
5 cloves of garlic
1 fresh jalapeno, halved and seeds removed
1 tbsp olive oil
1 bell peber, chopped
2 tbsp chopped fresh cilantro
1 tbsp fresh squeezed lime juice
1 tsp oregano, dried
1/2 tsp ground cumin
1/4 tsp salt
Preheat oven to 450F/230C.
Put parchment paper or foil in a large baking pan and place tomatoes and jalapenos cut side down, sliced onion and garlic. Drizzle with olive oil and bake for 25 min.
Meanwhile cut the bell peber and combine the rest of the ingredients in a bowl.
When done cool slightly and peel or cut the skin off the tomatoes and jalapeno.
Coarsely chop the roasted vegetables and add these to the bowl to finish the salsa.
Yields app 2 cups / 5 dl
Suggestions
Serve with tortilla chips, tortillas, quesadillas, burritos or any way you like. You can play with the color of the tomatoes for cool visual effects and the pebers for hotness.