Fish Tacos With Chipotle Sauce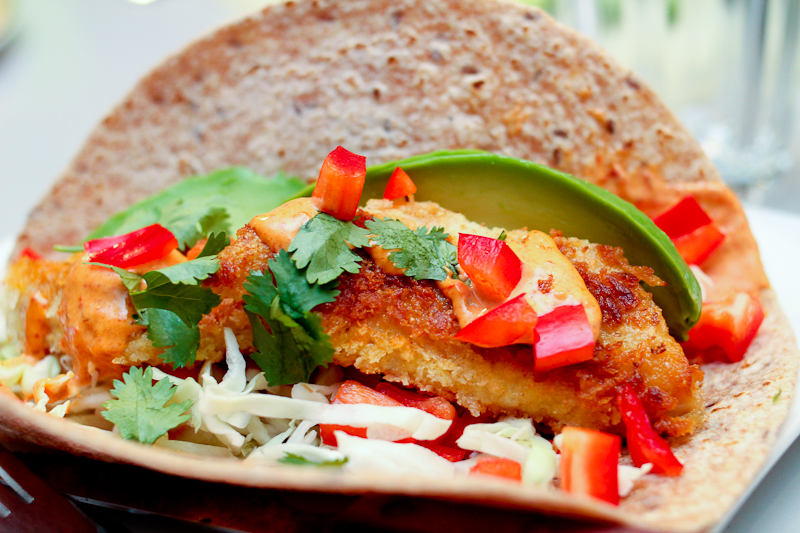 Fish tacos. I have a weak spot when it comes to fish tacos. They are easy to get here in Southern California, but. Oh but. My family and I are about to complete three adventurous years in Los Angeles and when we write 2012, it won't be so easy to find a good fish taco in our part of Copenhagen. As in Copenhagen, Denmark. Scandinavia. Northern Europe. Cold right now. But Copenhagen is also a great city, so it's alright. Except that it's always so sad to say good bye to good friends and to a city like no other in the world, which now and forever will have a special place in my heart!!!
So, here is a fish taco recipe, that I will be making often in the new year. I only hope I can find chipotle chili in adobo sauce?!
1 pound white fish (tilapia, cod, sole or other)
1 egg
1/2 cup / 120 ml flour
1/2 cup / 120 ml panko (bread crumbs)
Oil for frying
Wash and dry the fish. Cut into pieces.
Grab three deep dishes. Put flour and some salt in one, whish the egg in another and add the breadcrumbs to the third dish.
Take a large skillet and warm the oil.
Prepare one piece of fish at a time, dip it in the flour first, then the egg and last in the bread crumbs.
Fry until golden. It's flaky when done. It will only take a few minutes on each side over medium heat.
Throw out any leftover flour or bread crumbs!
The chipotle sauce
This is real simple. Make as much as you want. Use 2 parts mayonnaise and 1 part chipotle chili in adobo sauce and blend until smooth or simply chop, then stir. If you like it stronger, then use more chili. Done.
Buy your favorite tortillas -I used Trader Joe's whole grain flour tortillas with rolled oats and flax seed – I'll miss those too 🙁
Serve with your favorite fixings like shredded cabbage, bell pebers, tomatoes, avocado, cucumber etc. and don't forget a good squeeze of lime juice and fresh cilantro.
I served this corn salad with added black beans as a side. Buen provecho!