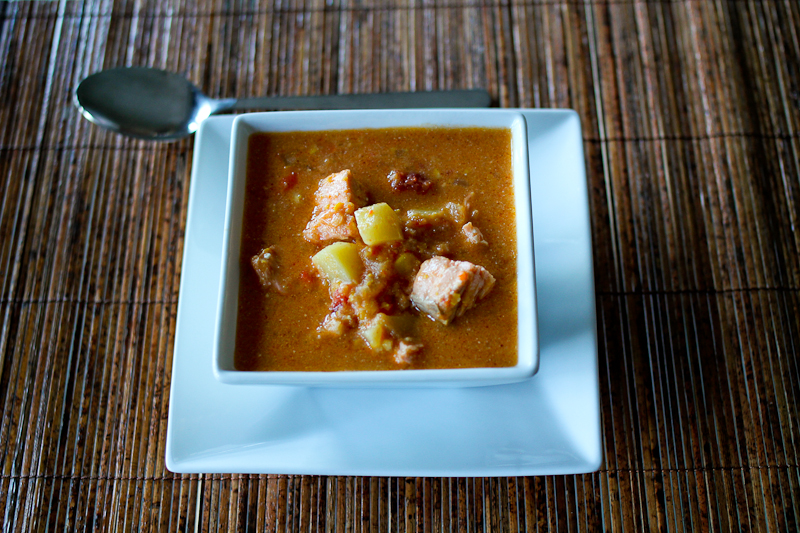 It's soup time and we are in transit. I created this salmon chowder about 10 years ago and it's been a staple ever since. Especially during the cold season. Homy comfort food. Enjoy!
2 tbsps olive oil
1 onion
3 medium-sized carrots
1 red or yellow bell pepper
4 medium-sized potatoes
1 tsp paprika
2 bay leaves
1 can tomatoes (14.5 oz / 450  gr)
1 can corn (drained 8 oz / 1 cup / 2.5 dl)
4 cups / 1 quart chicken broth (or fish or veggie broth)
1/2 cup white wine
2 skinned salmon fillets
4 tbsps heavy cream
2 tbsps soy sauce
1 tsp salt
1/4 tsp pepper
Cut the onion, carrots, bell pepper and potatoes into cubes.
Heat the oil, then add veggies and paprika and cook for 3-5 min over medium heat.
Add the broth, tomato, corn, white wine and bay leaves.
Bring to a boil and let simmer for about 10 min until the potatoes are tender.
Remove the bay leaves and blend with a handheld blender until the soup is smooth, but still chunky.
Cut the salmon into cubes and add to the soup. The salmon will cook in a few minutes.
Add cream, season with soy sauce and salt.
Serve hot.