Rice Salad With Soy Sesame Dressing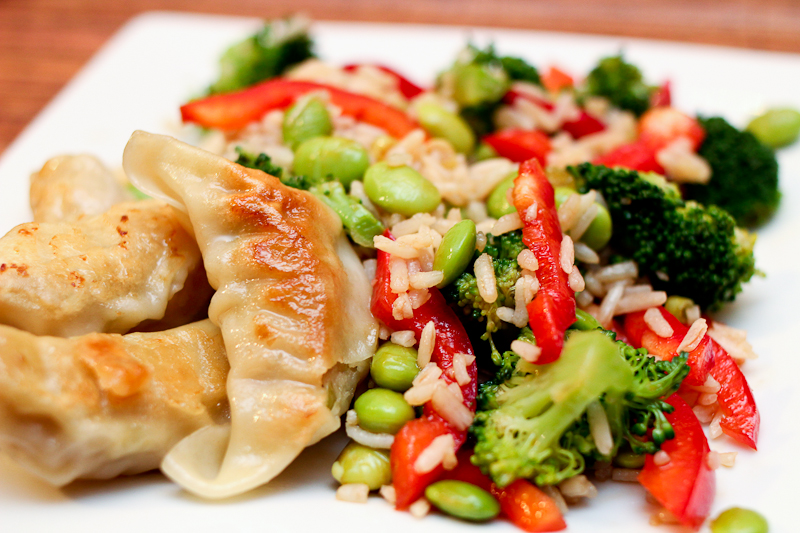 Whenever I cook rice, I always end up with leftovers, but never enough for a full second meal. Sometimes it gets lost in the back of the fridge and it ends up in the trash. I really try to minimize food waste, so I came up with this recipe to use that leftover rice in a pretty tasty way, if I do say so myself 🙂
The recipe is based on the amount of rice I had leftover on this particular day, you can use more or less depending on how much you happen to have. It doesn't matter.
2 cups / 5 dl cooked rice
2 cups / 5 dl broccoli florets
1 cup edamame, cooked and peeled
1 red pepper
4 green onions
Boil or steam the broccoli florets for a few minutes until just tender.
Slice the red pepper and finely cut the green onions.
Throw everything in a large bowl and make this dressing:
Soy-sesame dressing
1/4 cup / 60 ml soy sauce
2 tbsps rice vinegar
2 tbsps neutral oil eg. canola or grapeseed
2 tbsps water
2 tbsps sugar
1 tbsp sesame oil
Shake everything in a jar until the sugar is completely dissolved.
Suggestions
I served the rice salad with chicken dumplings (No, I did not make them, Trader Joe's did) and the dressing doubled nicely as dipping sauce. You could also double the dressing recipe and use it as a marinade for meat or chicken.
Quick tip with regards to the dumplings: Fry them in half neutral oil eg. canola/grapeseed and half sesame oil!