Japanese Chicken With Wasabi & Avocado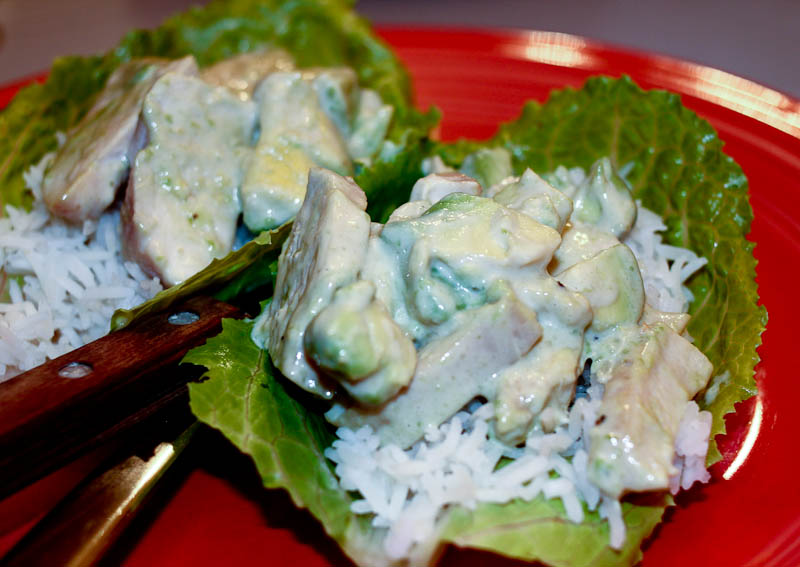 In our home we call this dish Tamami's chicken. Tamami is a beautiful Japanese woman, who married into our family years ago. She once told me about this dish. Now I make it (almost) every time, I have some white wine chilling in the refrigerator. It is time again.
1 pound / 450 gr of chicken, tender or breast
1/3 cup / 80 ml white wine
lettuce, romaine or iceberg
2 avocados
2-3 tbsp mayonnaise
1-2 tsp soy sauce
wasabi paste, to taste
Serve with rice
Preheat the oven at 375F/190C.
Prepare rice the way you usually do.
Cut the chicken into bite size pieces. Put in an ovenproof dish and add the white wine, salt and peber. Bake app 15 min. Check for doneness.
Mix mayonnaise, soy sauce and wasabi in a small bowl. Add 2-3 tbsp white wine from the cooked chicken. Set aside.
Rinse the lettuce and cut into big pieces. Cut the avocados into cubes.
Mix chicken, wasabi sauce and avocados and serve with the lettuce and rice.
Some like to put their own serving together like the photo. Some just eat each item separately. It is equally good.