Beany Chili Con Carne With Cocoa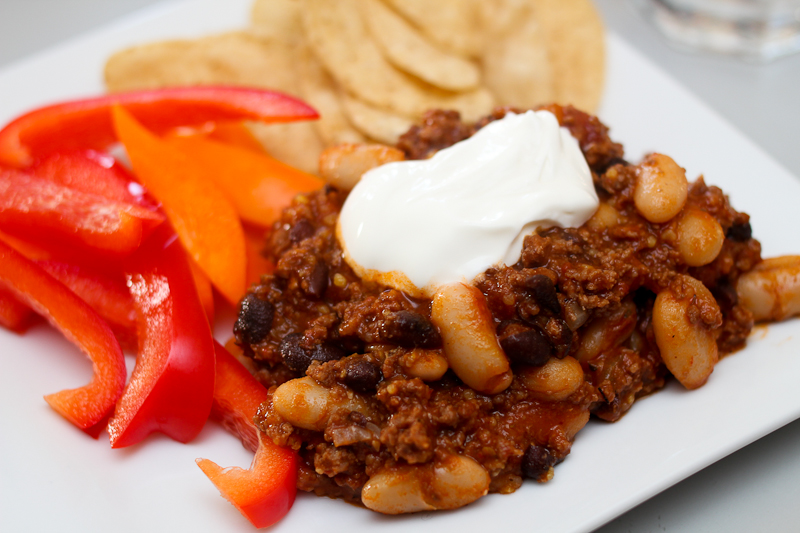 This may seem like a long list of ingredients, but most of it is spices. If there is one you don't have, simply use more of another. See one you don't care for, skip it. This is just the combo I happen to like. Play with it. As you can see from the procedure, it is pretty simple to make, if you have the time. It is a good recipe to double, throw half in the freezer for a busy weeknight. I serve chili con carne with tortilla chips, bell pebers, sour cream and rice for the extra hungry ones. I often make chili con carne, when I have some leftover rice.
2 tbsp olive oil
1 tbsp chili powder
1 tsp paprika
1 tsp unsweetened cocoa powder
1 tsp oregano
1 tsp salt
1/4 tsp cayenne pepper
1 onion, chopped
1 pound ground beef
1 can tomatoes
2 tbsp tomato paste
1 cup / 240 ml water
1 can black beans
1 can white beans
2 tbsp corn meal
dash of tobasco sauce
Bring out a large pot, put in the oil with all the spices. Cook for 1 min over medium heat.
Add the chopped onion and cook 2-3 min more.
Then in goes the meat. Be sure to brown the meat completely, this adds flavor to the dish. Then add the canned tomatoes, tomato paste, water and salt and cook for at least 25 min over medium heat. Longer over slower heat is fine too.
Add the beans and cook another 10 min, then finally add the corn meal to thicken the chili con carne. Add more or less depending on how firm or juicy you like it. Cook 2-3 more minutes and you're done.
Taste and season with salt & pepper.