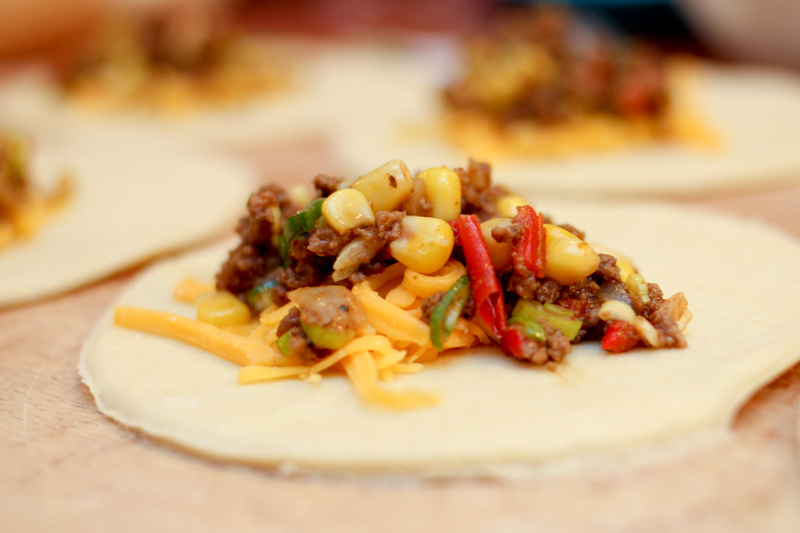 Definition: Empanadas are fried or baked pastries stuffed with sweet or savory fillings. These pastries are known throughout Portugal, the Caribbean, Latin America, and the Philippines. Empanada comes from the Spanish verb empanar, which means to wrap in bread. An empanada is made by folding a disc of thinly rolled dough over a filling into a semicircle and then sealing the edge. Source: About.com on Latin food.
Empanada dough
3 cups flour
1 tsp salt
1/2 cup  / 80 ml cold water
2 eggs
1 tsp vinegar (softens the dough)
4 tbsps / 65 gr cold butter
Add the dry ingredients to a food processor and pulse until combined.
Cut the butter into cubes and add to the flour mixture. Pulse until it is coarse.
Whip the eggs and mix with the cold water.
Pour into the dough and pulse only until combined. Do not overmix the dough.
Let the dough rest in the fridge for at least 20 min.
The recipe yields 15 empanadas with a diameter of app 12 cm / 4 1/2″
Empanada filling
1 pound  / 450 gr ground beef
2 tbsps olive oil
1 onion
1 red bell pepper
1 tbsp ground cumin
1 tbsp chili powder
1 tbsp paprika
2 tsps oregano
1 can of corn
Salt & pepper
4-5 green onions
Dice the onion and red bell pepper.
Heat the oil in a pot and add meat, diced onion and bell pepper.
Stir while cooking until the meat has browned nicely.
Add all the spices and 2 tbsps of water, then let simmer for about 10 minutes while stirring occasionally.
Finely chop the green onions.
Add these and the corn to the meat. Stir, taste, season and set aside.
Assembling the empanadas
Roll out the dough and cut into circles.
Top each circle with 1 tbsp shredded cheddar cheese and 1 tbsp of the beef filling.
Fold into a semicircle and seal the edges with a fork.
Eggwash before baking.
Bake on parchment paper for about 25 minutes at 400F/200C.
You will have some beef filling leftover, if you use above dough recipe. This can be turned into tomorrow's dinner by using as filling for pita bread, topping on pizza or add some canned tomatoes and turn into a pasta sauce.