Spiced Beef Tortillas With Fresh Salsa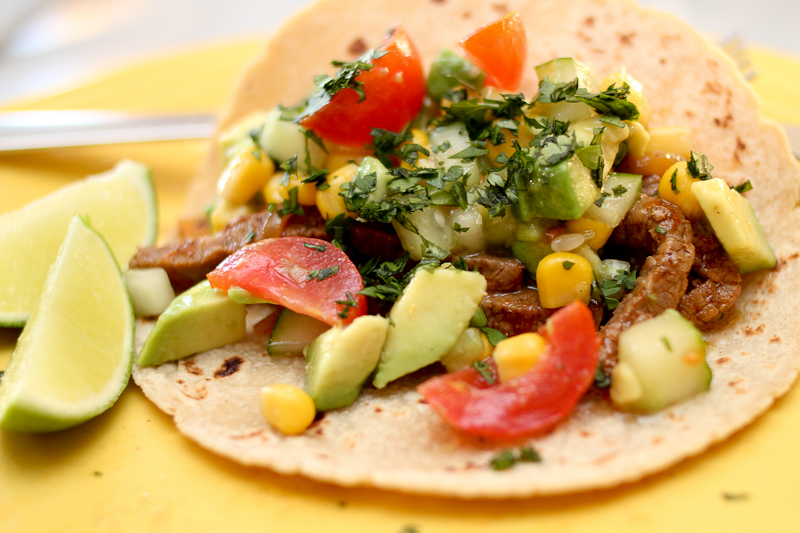 I like Mexican food. A lot. It is fresh, fast and flavorful. This salsa was inspired by the state of my refrigerator and the stir fry beef was spiced Mexican style. Serve with corn or flour tortillas and maybe a few lime wedges on the side. Buen provecho!
 Fresh salsa
 1/2 of one cucumber
10 cherry tomatoes
1 avocado
1 can corn
1-2 green onions, minced
Fresh chopped cilantro to taste
3 tbsp olive oil
1 1/2 tbsp fresh squeezed lime juice (1-2 limes)
1/2 tsp honey
1/4 tsp ground cumin
Chop and mix all the ingredients for the salsa.
Make the dressing by shaking or whisking the olive oil, lime juice, ground cumin, honey, salt & pepper. Pour over the salsa and mix well.
Spiced beef
1 pound beef for stir fry
1 small onion
1-2 tbsp olive oil
1/2 tsp paprika
1/2 tsp chili powder
1/4 tsp cayenne pepper
Chop the onion and heat the oil in a medium size skillet or wok.
Add spices and cook for 1 min, then add the chopped onion and cook for another 2-3 min. Last add and cook the meat. It should be cut into strips and will cook pretty fast. Check for doneness after 3-4 min.