Asian Salmon & Gingered Rice Pilaf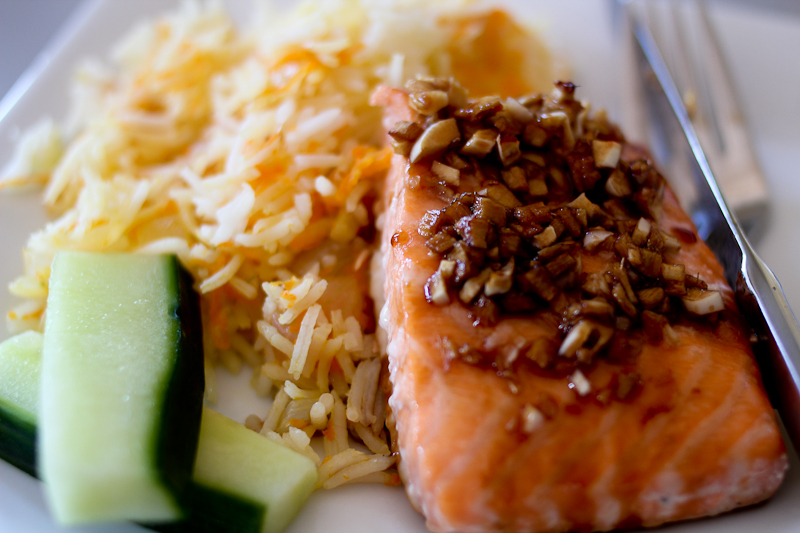 Salmon is one of my favorite fish. You can dress it up in so many ways or not. Today's salmon has Asian flavors with ginger, soy, garlic and a hint of honey. I serve it with a gingered rice pilaf, but plain rice would work well too. The salmon has plenty of flavor.
Gingered rice pilaf
 1 1/2 cup / 360 ml white rice
3 cups / 720 ml water
1 small onion
1 medium carrot
1″ / 2.5 cm fresh ginger
1 tbsp neutral oil (eg. grapeseed)
1 tsp chicken bouillon
1 tsp salt
Preheat oven to 375F/190C for the salmon.
In a medium sized pot, add the olive oil, then chop the onion and add.
Cook the onion stirring occasionally, while finely chopping the fresh ginger and grating the carrot. Add these to the onion and cook for 1 min, while rinsing the rice.
Add the rice, stir well and cook for 1 min.
Then add water, salt, bouillon. Stir and bring to a boil.
Start prepping the top for the salmon now.
When boiling cover the pot, put the heat on low and cook rice for 12 min.
Put the salmon in the oven when the rice has been simmering for about 6 min.
When done, turn off the heat, but leave lid on the rice and let rest for another 10 min, then the salmon should be ready at the same time. Enjoy!
Asian salmon
1 pound of salmon
1 " / 2.5 cm fresh ginger
2-4 cloves of garlic
2 tbsp soy sauce
1 tbsp honey
Mince the garlic and ginger finely. Add soy sauce, honey and stir.
Spread on top of the salmon and bake for app 18 min. until it is flaky.
Suggestions
If you want more sauce, you can double the soy sauce and the honey. Vary the amounts of the ginger and garlic depending on your personal preference.