Seared Ahi Tuna With Seaweed Salad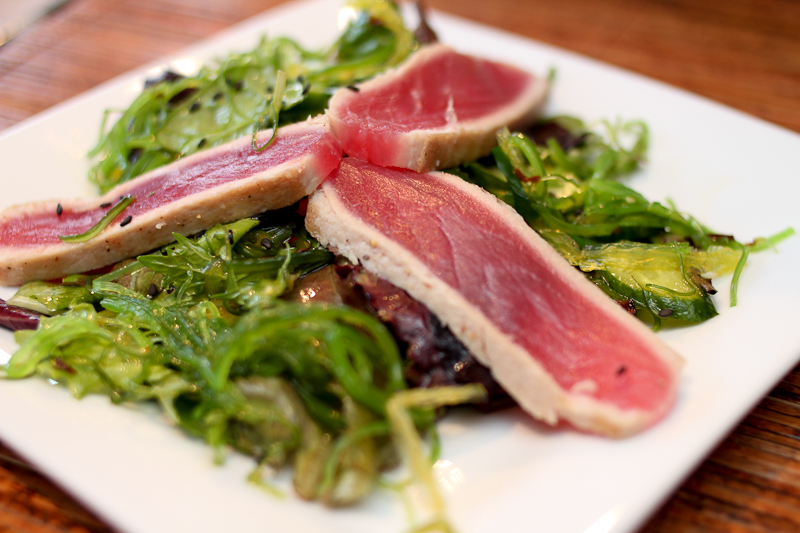 What a wonderful surprise! In the back of my local Farmers Market, there was a guy with fresh fish this weekend. Fish guy may have been there before, but today I saw him for the first time. He had all kinds of domestic and exotic fish put away on ice in big white containers. I took a good look and came across this beautiful piece of sashimi grade ahi tuna and some seaweed salad to go with it. My happy day. This is how I put it together:
11 oz / 300 gr ahi tuna
2 cups / 5 dl mixed greens
1/2 cucumber
1 green onion
About 1/2 cup / 120 ml green seaweed salad
1 tbsp black sesame, optional
1 tsp sesame oil for frying
Wasabi soy dressing
3 tbsp olive oil
1 tbsp soy sauce
1 tbsp rice vinegar
1/2 tsp wasabi paste
Salt & pepper
Wash the greens, slice the cucumber, finely cut the green onion.
Make the dressing by whisking all ingredients together.
Pour the dressing over the salad, and arrange salad on individual plates.
Top with seaweed salad and black sesame seeds, if using.
Sear the tuna over medium-high heat in sesame oil for 1 1/2 min each side. Done! Season with salt & pepper.
Slice the tuna and serve on top of the salad.
A slice of heaven – for me 🙂
Serves 2 for dinner or a family of 5 as an appetizer
Suggestions
Add edamame if serving for dinner.