Salmon Spinach Lasagne With Citrus Cream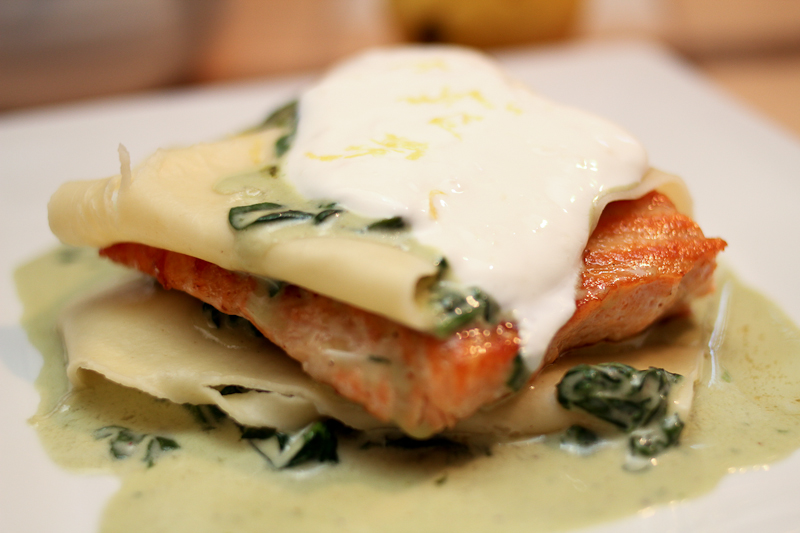 I love lasagne and I love salmon. I think salmon is a perfect match with spinach. And spinach goes well with pasta. Lemon is always good when heavy cream is involved. Those were some of the thoughts that were rummaging through my head while I was trying to come up with a great fish lasagne. I wanted it light and not drowning in white sauce. I didn't want the fish to overcook while baking in the oven, so an open lasagne seemed a good solution. Well, here is the result. I made it in a little over 30 minutes, I was focused and left a huge mess in the kitchen.
8-10 lasagne pasta
1 pound salmon
olive oil for frying (no oil if baking the salmon)
6 oz / 170 gr fresh spinach (frozen and thawed spinach works fine too)
1/4 cup / 60 ml heavy cream
1/2 tsp corn starch
1/4 tsp nutmeg
1/4 tsp sugar
salt & pepper to taste
Lemon cream
4 oz / 110 gr sour cream
lemon zest from a small lemon
lemon juice from 1/2 small lemon
Salt & pepper to taste
Pull out a large pot for the lasagne pasta, a medium pot for the spinach and a medium size skillet for the salmon – or preheat the oven to 400F/200C and bake the salmon on parchment paper or foil in the oven for app 20 min, if you want more room on your stovetop.
Boil water for the lasagne pasta while the salmon is in the oven or heat the skillet with a bit of olive oil and fry the salmon for about 10-12 min over medium heat.
 Throw the fresh or thawed spinach in the pot with the heavy cream, nutmeg, sugar, salt & pepper. Stir the corn starch with a teaspoon of water and add to the spinach when boiling to thicken slightly. Cook for at least a couple of minutes more.
While the pasta is cooking according to instructions, the salmon is frying/baking and the spinach simmering. Phew. Grab a small bowl and make the lemon cream by stirring all the ingredients.
If the timing is right, everything should be done now. Time to arrange the lasagne individually. Or on a big platter. I just think it looks really fancy and stylish when plated individually. Go with what works for you:
First spinach, then lasagne (they may tear a bit, mine did), then salmon, then a little bit of spinach and last the lemon cream. That's it. Place the lemon cream on the table, if anyone wants more.