Veggie Stir-fry With Cashews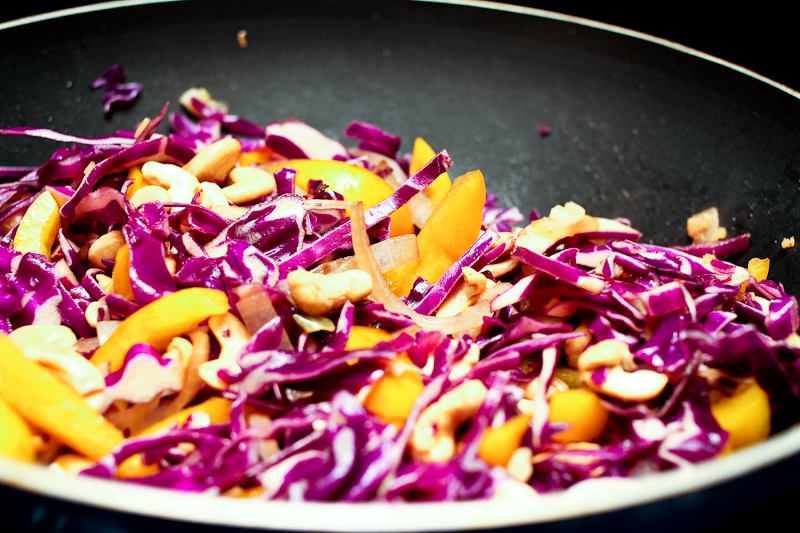 This is a light yet flavorful stir-fry. You can use other vegetables, if you don't have the ones I use. You can add meat or chicken in addition to or in place of the cashews. If you do that, then fry the meat in the sesame oil with the garlic and ginger first. Set aside on a plate and then fry the vegetables. Add the meat or chicken when the vegetables are done, then serve with noodles or rice.
2 cups / 5 dl of red cabbage, sliced
1 yellow bell peber, sliced
1/2 onion, sliced
1 cup / 240 ml cashews, lightly toasted
1 tbsp sesame oil
1/4 cup / 60 ml white wine
2 tbsp oyster sayce, optional
2 tbsp soy sauce
1 tbsp ginger, minced
2 cloves of garlic, minced
Start cooking rice or noodles. Prepare the vegetables.
Put soy sauce, white wine and oyster sauce (if using) in a small bowl. Set aside.
Heat the sesame oil with garlic and ginger and add the onion, yellow peber and cabbage. Cook for 3-5 min. Stirring once in a while.
Throw the cashews in the wok with the veggies and pour the soy sauce mixture on top. Stir well and continue cooking for 2-3 minutes.
Season & serve.