Risotto With Pesto, Prosciutto & Truffle Oil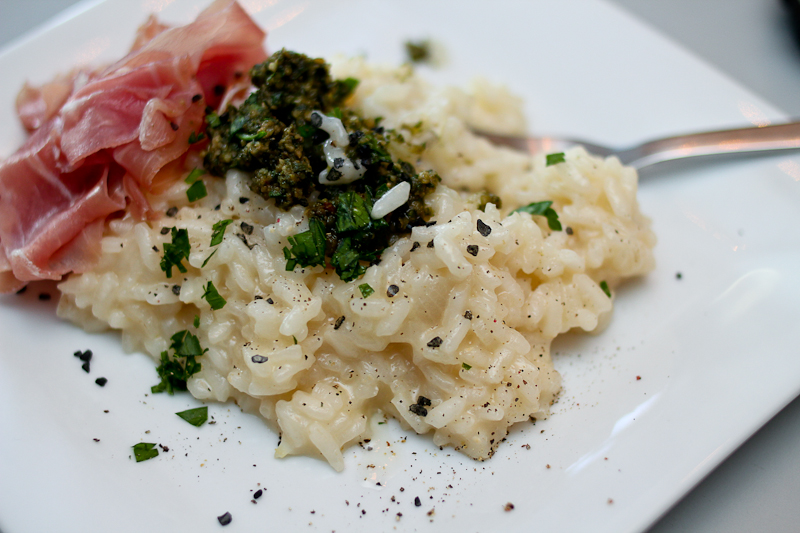 This is a basic risotto bianco inspired by Jamie's Italy by Jamie Oliver. I have cut down on the butter and parmesan, I use white wine instead of vermouth and I left out the celery. There is some stirring involved, the goal is to get the starch out of the rice, producing a creamy risotto. It only takes max 20 min stirring and you can take some breaks while stirring. I served the risotto with pesto and prosciutto. If I have a few minutes left over next time, I may crisp the prosciutto in the oven 375F/190C for 5-7 min. It would add a nice crisp to the smooth risotto. You can take this basic risotto in many directions. I finished the servings with a drizzle of truffle oil, sprinkles of Hawaiian black lava salt and fresh ground pepper.
4 cups / 1 liter chicken or other bouillon
1 tbsp butter
1 onion, finely chopped
1-2 cloves of garlic, minced
14 oz / 400 gr risotto rice eg arborio
1 cup / 2.5 dl white wine
1 3/4 oz / 50 gr butter
2.5 oz / 75 gr parmesan
 Start by heating the bouillon.
Melt butter in a medium pot and fry onion, garlic for about 8-10 min, then add rice and cook for 1-2 min.
Add white wine and cook while stirring until all the wine is absorbed.
Use a ladle and add about 1/2 cup of the bouilon to the rice and stir well until the liquid has been absorbed. Repeat this step for about 15 min until all the bouillon is used.
Taste the rice, it should be al dente. You can add some boiling water if the rice is still too hard. Just add a little at a time and keep tasting. You don't want it to be mushy.
Take the pot off the heat and stir in the butter and parmesan. Cover the pot and let rest for 2 min. Then serve right away.