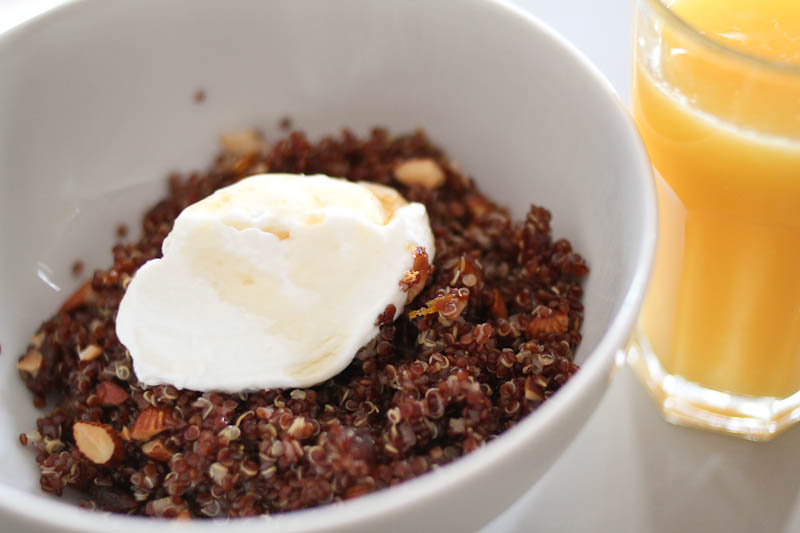 Quinoa is a grain from Peru. It was sacred to the Incas. No wonder. The last decade quinoa has made its way to the Western World and can now be bought in most supermarkets in several colors. Quinoa is not only pretty when cooked, it is also loaded with fiber and is a complete protein, which means it has all nine essential amino acids. Furthermore, it is a good source of manganese, magnesium, iron, copper and phosphorous. In other words, quinoa is really good for you. I usually make it as a side dish for dinner, but give this breakfast a try. I think you will be pleasantly surprised. Food & Wine magazine is my inspiration for this recipe.
1 cup / 240 ml quinoa, rinsed
2 cups / 5 dl water
1 tbsp coconut oil
1/4 cup / 60 ml almonds, chopped
1/4 cup / 60 ml apricots, chopped
2 tbsp honey
1/2 tsp orange zest, grated
1/4 tsp cinnamon
4 tbsp greek yoghurt
Cook quinoa according to instructions. It takes 15 min.
Heat coconut oil and almonds in a skillet and cook a few min over medium heat.
Add the remaining ingredients -except the yoghurt- and stir until justed heated.
Mix gently with the quinoa and serve topped with a tablespoon of greek yoghurt and drizzle with honey.
Serves 4
Suggestions
Quinoa can be refrigerated up to 4 days, which makes it easy to make a quick serving for one or more. I do that often. Serve hot or cold. You can add other nuts, dried fruits or top with fresh fruits. Another favorite combination of mine is diced apples, walnuts and cinnamon, where the apples are heated just until they are slightly soft. You can really play with this recipe and it makes me feel so healthy. Great way to start the day.