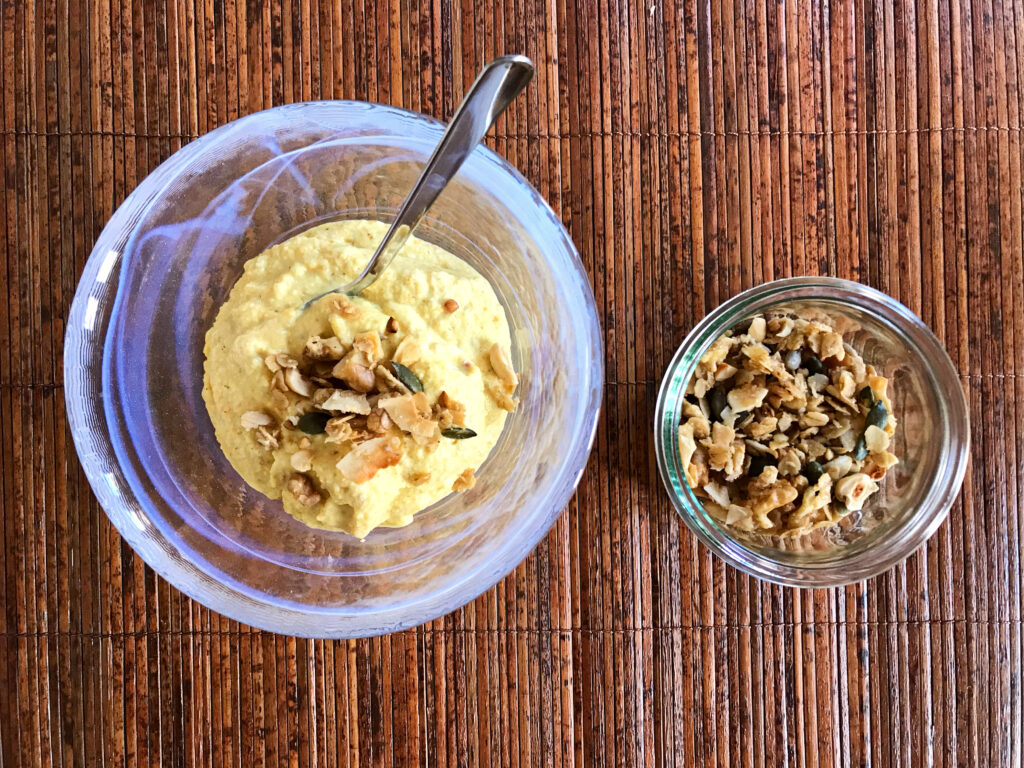 The first time I tasted cashew yoghurt – I loved it. This is even better. Healthy. Tasty. Fast. Easy. My kind of breakfast!
2 servings
1 organic orange
1 organic lemon
1 large date, preferably Medjool
1/4 cup / 60 ml almonds (or cashews), soaked over night
1/4 cup / 60 ml shredded coconut, unsweetenend
A pinch of vanilla seeds or vanilla extract
Water
PROCEDURE
Cut the ends of the orange and lemon and divide into. Remove any seeds. Add everything to your blender and start by adding 1/3 cup / 80 ml water. Blend until smooth and adjust the thickness to your liking with water. I prefer Greek Yoghurt style thickness. You can go thicker or thinner all the way to smoothie, if you prefer – in which case you can throw in some ice cubes.
Taste and adjust sweetness with vanilla or a bit of maple syrup or honey, if you must. The sweetness of citrus fruits depends on the variety, the climate, the ripeness, the size, the juiciness etc.
Finish by adding your favorite topping. Enjoy!
It keeps in the fridge for 2-3 days.
I am addicted to Nekisia Davis' Olive Oil & Maple Granola. See recipe here