Herb Risotto With Prosciutto Wrapped Salmon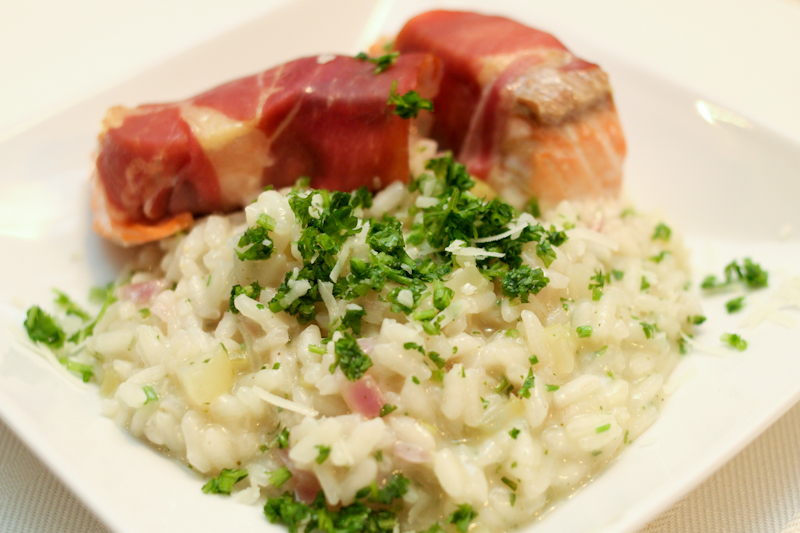 I recently read in a Danish newspaper that roughly half of us care about the food we eat and the other half doesn't. What surprised me the most was that so many people don't care. As for me, I am pretty much guaranteed three highlights every day.
Obviously cooking is more fun, when you love to eat. But everyone can learn to cook, especially these days with cooking shows on every channel. So what's stopping you?
I want to share my Monday evening meal with you. It took just 30 minutes to make. So worth it. For your taste buds, for your health and for your wallet. Before you start, you should know that under that salty prosciutto and on top of that fatty fish is a slice of tart, yet sweet apple. Are you hungry yet?!
Risotto with herbs
4 cups / 1 liter chicken or vegetable bouillon
1 tbsp olive oil
1 onion, finely chopped
2 celery stalks, chopped
1-2 cloves of garlic, minced
14 oz / 400 gr arborio rice
1 cup / 2.5 dl white wine
1 3/4 oz / 50 gr butter
2.5 oz / 75 gr parmesan
1 tsp salt
Handful of parsley and chives, chopped
Preheat the oven  to 375F/190C, if you plan to serve with the wrapped salmon.
Start by heating the bouillon.
Heat the olive oil in a medium pot and chop the onion, celery and garlic.
Cook for 2-3 minutes, then add rice and cook another for 1-2 min while stirring.
Add white wine and cook while stirring until all the wine is absorbed.
Use a ladle and add about 1/2 cup of the bouillon to the rice and stir well until the liquid has been absorbed. Repeat this step for about 15 min until all the bouillon is used.
Taste the rice, it should be al dente. You can add some boiling water if the rice is still too hard. Just add a little at a time and keep tasting. You don't want it to be mushy.
Take the pot off the heat and stir in the butter, parmesan and chopped herbs. Cover the pot and let rest for 2 min. Then serve right away.
Salmon wrapped with apple and prosciutto
4 salmon steaks, skin removed
8 slices of prosciutto
1 green apple
Peel and slice the apple.
Cut the salmon steaks in two pieces.
Place a slice of apple on each salmon piece.
Wrap each with prosciutto
Bake for 12-15 minutes