Cod, Beluga Lentils & Salsa Verde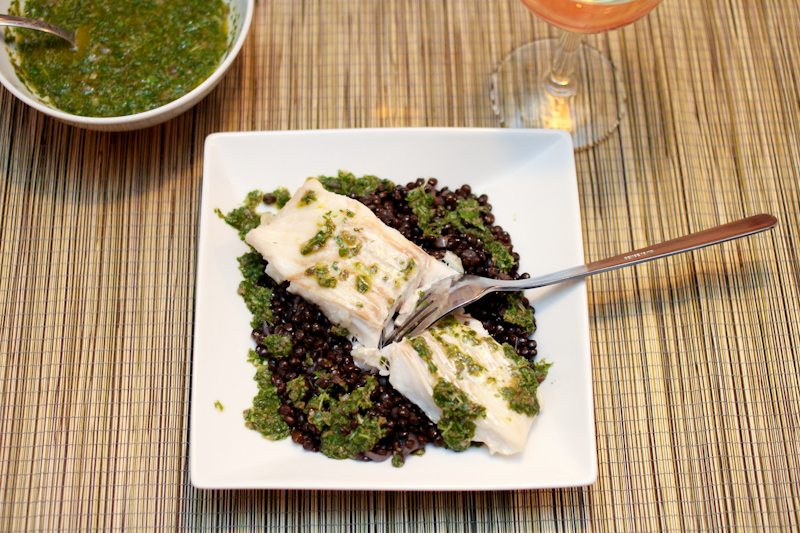 White, black and green. Keep it simple. In my part of the world cod is in season and I pair it with beluga lentils, because of their beauty and bite, with latin inspired  salsa verde for color and flavor. In Southern California where I have spent many magic years, salsa verde contains tomatillos and cilantro, the Italians add anchovies. This is my weekday version.
Salsa Verde
1 handful parsley
1 handful basil
1/3 cup / 85 ml olive oil
Juice from 1 small lemon
1 tbsp capers
1 clove of garlic
Salt to taste
Put all ingredients in a food processor and pulse a few times. You want to keep a bit of texture. At least that's how I like it. A smoother salsa works too as does a more coarsely chopped salsa verde.
Cod and Beluga Lentils
1 pound cod
1 cup / 2.5 dl beluga lentils
2 tbsps butter
1 shallot, optional
2 tsps olive oil, optional
Chili flakes, optional
Preheat the oven to 375 F/190 C.
Cut the cod into serving size and place on parchment paper.
Bring 2 cups of salted water to a boil. Rinse the beluga lentils and cook uncovered according to instructions for 15-20 minutes.  Taste once in a while after 15 minutes to avoid mushy lentils. You are aiming for a delicate al dente bite. If you have the time you can mince the shallot and fry in olive oil with a drizzle of chili flakes before adding the lentils.
Top each piece of cod with a dollop of butter and flaky salt. Bake for 12-15 minutes depending on the size. Test with a fork, they are done when they are flaky.