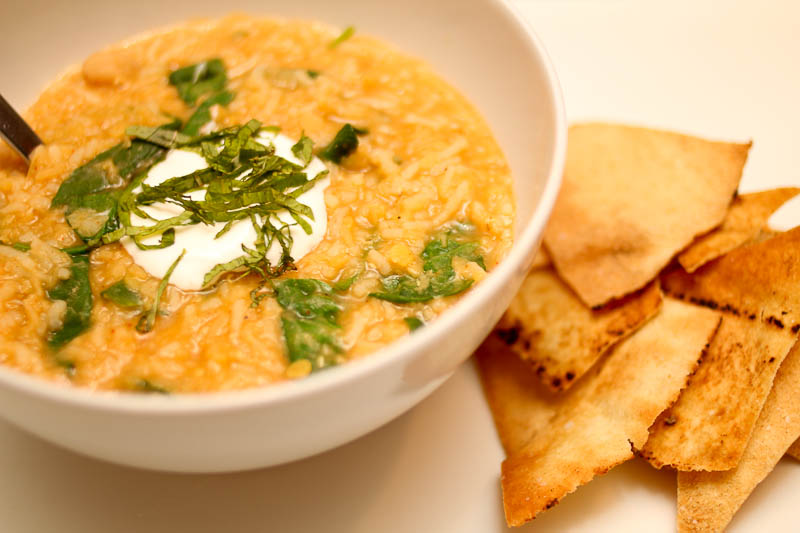 This is quick comfort food. Prep time for this meal is 5 minutes. Seriously. My friend Angela told me about this yummy, thick lentil soup. It pretty much takes care of itself. I love that kind of food on a busy day. Serve with bread or just as it is. If you are a mint lover, add some to the soup as well.
1 cup / 240 ml red lentils
1/2 cup rice
6 cups / 1.5 liter of water
1 tbsp chili powder
1 tbsp cumin
Juice from 1 lemon
A handful of fresh baby spinach
1/2 can of garbanzo beans, optional
Topping
Fresh mint, chopped
Sour cream
Rinse the lentils and rice.
Put 1 tbsp of olive oil in a pot and fry lentils, rice and spices for 1-2 min.
Add water, 1 tbsp salt and bring to a boil. Cover and simmer for 20 min.
Season with lemon juice, stir in garbanzo beans and simmer 2 more min.
Add spinach leaves just before serving.
Serve with toppings and bread if you like.
Suggestions
You can use any kind of lentils or rice. You may have to adjust the cooking time a bit.  Play with the spices and toppings. Ginger would be nice or try adding fresh red chili instead of the dried chili powder. Crisp pancetta or bacon would also work well as a topping. And of course you never go wrong, if you add onion and garlic. But then you may have to spend a little more than 5 minutes prep time.