Potato Broccoli Soup With Parsley Pesto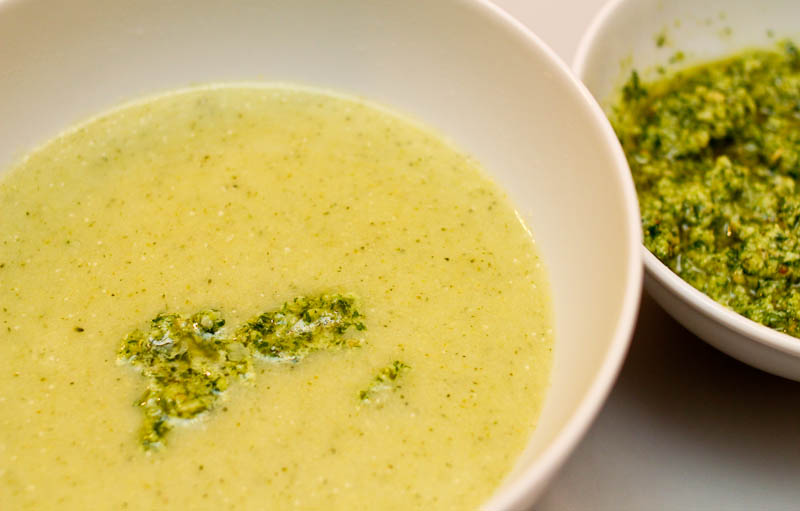 Today is st patrick's day. It's all about green in the US. I don't know about Ireland. I suppose they celebrate the day too. It's an Irish holiday. The kids have to wear green today – otherwise they will be pinched. At the preschool, a leprechaun may sneak by with a pot of gold on the way to the end of the rainbow. A leprechaun is very clever and never seen, but sometimes he drops some of his golden coins…it's a big day for the little ones.
I love soups and today it's all green. It's a basic potato soup to which I have added broccoli for flavor, color and nutrition. You can vary your basic vegetable soups endlessly by adding different toppings. Try sour cream, fresh herbs, bacon, sausage, bread crumbs etc. Be creative. Parsley pesto works well on potato soup. You can buy pesto, if you are short on time or make your own.
5 cups /1,25 l water
1/4 cup / 60 ml white wine
1 tbsp chicken bouilllon
2 large potatoes
1 head of broccoli
1/2 onion
1 tbsp butter or olive oil for frying
2 bay leaves
2-3 tbsp heavy cream, optional
Chop the onion and fry in a big bowl for 2-3 min.
Meanwhile peel and chop potatoes, cut broccoli into florets.
Add water, bouillon, wine, potato, broccoli, bay leaves to the onion and bring to a boil.
Simmer until the vegetables are tender. App 15 min.
Discard the bay leaves. Blend the soup. I recommend a handheld blender!
Season with salt & pepper, add heavy cream if using. Serve.
Quick pesto topping
A handful of parsley
A small handful of pine nuts
2 tbsp grated parmesan
1 tsp lemon juice
3-4 tbsp olive oil
1/2 tsp salt
Blend and serve.
PESTO TIPS
Store pesto in the freezer, if you make too much. You can also make a quick dinner by adding some heavy cream to the pesto, then serve it over pasta. Mix pesto with mayonnaise and use as a spread for sandwiches. Add pesto to salad dressings. And much more. Of course you can be creative with the ingredients in the pesto too. Try different herbs and nuts, add olives, sun-dried tomoatoes etc. I could go on, but you get the idea!