Green Split Pea Soup With Curried Butter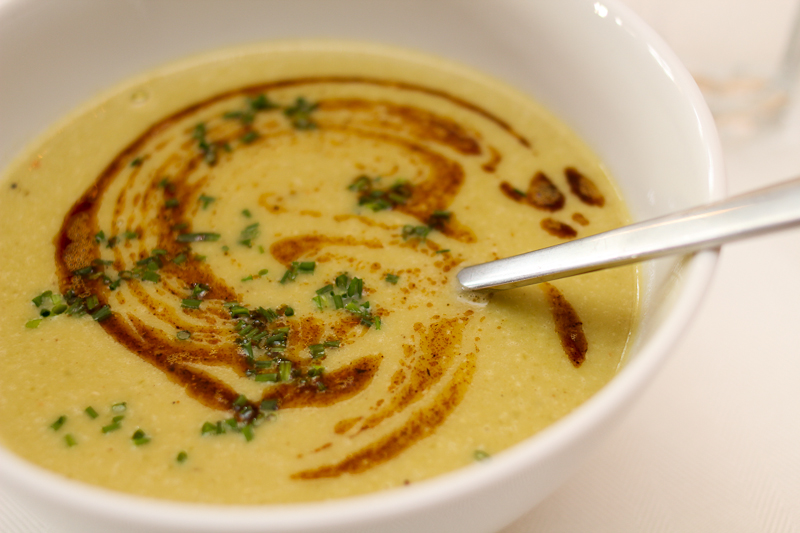 If you ever thought that green split pea soup wasn't a sexy dish, then you need to reconsider! This rich, spicy, flavorful, creamy soup was such a treat. Even my hungry husband agreed. Though I did make him some bacon to throw on top, he loved it even without the meaty addition. The kids topped it with croutons. A bit of crunch is always good. Prep time is less than 15 minutes, but it took about 45 min for the split peas to cook. So get the soup going 1 hour before you plan to eat and once it's simmering away, grab a book, play with the kids, catch up on e-mails or whatever it is that you like to do. The soup takes care of itself until it needs a quick blend and goes straight to the table. Thank you to Heidi Swanson for the inspiration. The soup is adapted from her cookbook Super Natural Every Day.
2 tbsp butter
1 onion, chopped
2 cloves garlic, chopped
1/2 tsp red pepper flakes
5 1/2 cups / 1.3 l water
1 1/2 cups / 300 gr green split peas or green lentils
3 tbsp / 45 gr butter
1 tbsp curry powder
1 cup / 240 ml coconut milk
1 bunch fresh chives, minced
In a large pot melt 2 tbsps of butter and add the onion, garlic and red pepper flakes. Cook for a couple of minutes, stirring once or twice.
Pick any pebbles from the green split peas, rinse well and add to pot with the water.
Bring to a boil over medium-high heat. Cover and turn down the heat when simmering and let simmer for about 45 min or until the split peas are tender.
In the meantime melt the butter, let it turn just brown and add the curry for 30 sec. Set aside.
The soup is done when the split peas are tender. Blend with handheld blender until chunky or smooth. Your choice.
Add coconut milk, 1-2 tbsps of the curried butter and season with salt & pepper.
Drizzle with a bit more of the curried butter and top with chives.