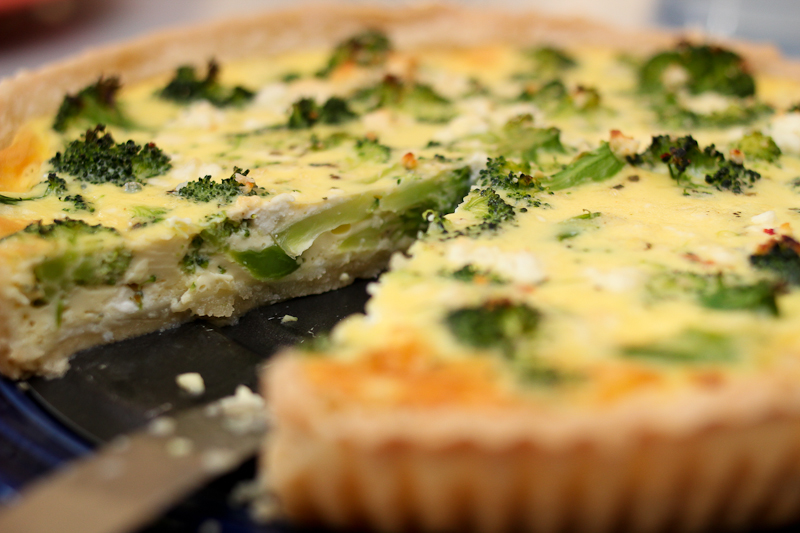 I have been making broccoli quiche and a ton of varieties for over 20 years. It's just one of my good old keepers, which is why I thought I would share it with you. As I was writing this, I wondered about the difference between a pie and a quiche. You may already know the answer, but if you don't, here it is:
Quiche: A baked flan or tart with a savory filling thickened with eggs.
Pie : A baked dish of fruit, or meat and vegetables, typically with a top and base of pastry.
2 cups / 5 dl packed broccoli florets
Store-bought pie crust or thawed puff pastry
4 eggs
10 oz / 300 ml milk
1 tbsp flour
A handful of grated or crumbled cheese eg. goat, feta, chedar etc.
Salt & pepper
Preheat oven to 375F/190C.
If the store-bought crust is in an oven-ready pan, then just leave in the freezer for now. If using puff pastry line a 9″ or 23 cm cake pan with the puff pastry dough, trimming edges to fit pan and pressing pastry where bottom of pan meets sides. Prick bottom with a fork. Place in the freezer.
Grab a medium size pot and bring some salted water to a boil. Boil the broccoli florets for 5 min until slightly tender and remove from the water when done. Set aside.
Get a medium size bowl and crack the eggs and whisk them with the milk. Add the flour, 1 tsp salt,  1/4 tsp pepper and whisk well.
Take the crust from the freezer, divide the broccoli florets evenly, pour the egg mixture on top and sprinkle with cheese (pictured with a mix of goat and feta).
Bake for 45 min or until set in the center.
Suggestions
You can use heavy cream, half & half or skim milk. You can substitute some of the milk with sour cream or cottage cheese. You can add cooked bacon, sausage or herbs. Try different vegetables. I particularly like frozen, thawed spinach with blue cheese. Tomatoes tend to get a little wet, so add 1 more tbsp of flour and try with feta cheese and herbs. Leeks and onion are great too, but need to be fried lightly in butter or oil before adding to the quiche.