Raw Brussel Sprouts With Pistachio Nuts & Manchego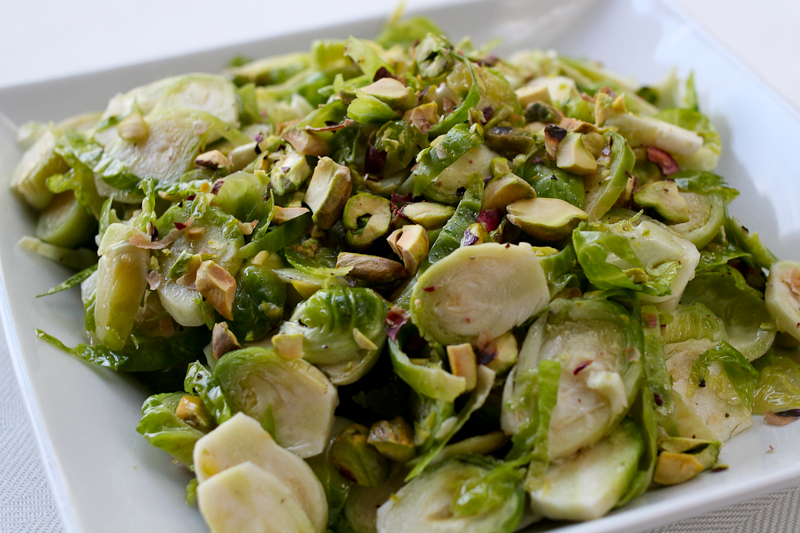 I like to come up with new ways to eat more vegetables, because I our bodies really need it. I am not thinking cucumber, tomatoes and bell pebers, but the more fibrous ones like eg. brussel sprouts. I have read many places that brussel sprouts is a good diet food. After eating this salad last night, I believe part of the explanation is that you spend a long time chewing raw brussel sprouts, so it feels like you've eaten a lot of food after a good serving of this side. It's more of an idea than a recipe, so you can adjust the size as you wish. I had the leftovers for lunch the next day and added manchego cheese. This really took the salad to the next level.
Coming up next Kale bread salad with lemon poppy seed vinaigrette
2 handfuls of brussel sprouts
A small handful of toasted and salted pistachio nuts, coarsely chopped
Manchego, parmesan or any other dry cheese
1-2 tbsp olive oil
Fresh squeezed juice from 1/2 a lemon
Salt & pepper
Cut the ends off the brussel sprouts, peel the outer leaves off and slice finely. Either by hand (pictured) or in a food processor.
Drizzle with 1-2 tbsps of olive oil or more depending on how much you make.
Finish with juice from half a lemon or to taste. Season with salt & pepper.
Let rest at least 15 min.
Top with pistachio nuts and cheese (not pictured).
Suggestions
You will never fail by adding cranberries to brussel sprouts.