Kale Bread Salad With Lemon Poppy Seed Vinaigrette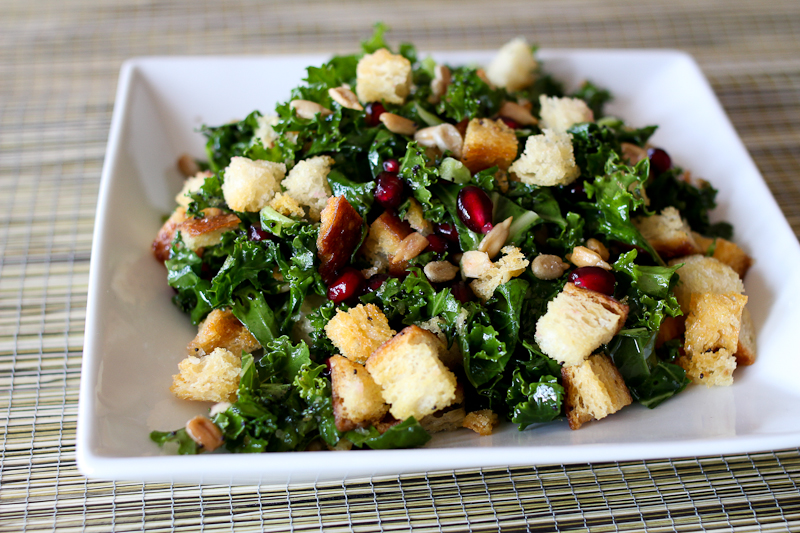 Lately I have just happened to eat a few different kale salads. I have tried Gelson's Market's with carrots and sunflower seeds. I have eaten a better version at Forage with feta cheese and breadcrumbs and here is my own version inspired by the two. I cut the kale pretty fine, it's a rough cabbage and by cutting it in smaller pieces, the salad absorbs more of the dressing and thus holds more flavor and is easier to eat. Kale is a powerhouse of nutrients, especially vitamins A and C.  You've got crunch, acidity, tart sweetness and saltiness all in one salad. If you don't think kale is for you, this could change your mind…
3-4 cups / 8-10 dl finely chopped kale
2 cups / 5 dl packed croutons
1/3 c / 80 ml roasted and salted sunflower seeds
A handful of pomegranate seeds
Put the chopped kale in a bowl with the dressing and let it soak up some of the dressing before adding the rest of the ingredients. About 10 minutes. The kale will shrink a bit as it 'drinks' the dressing. You can skip this step, if you are in a rush.
Lemon poppy seed vinaigrette
4 tbsp olive oil
2 tbsp rice vinegar (or other white vinegar)
1 tsp honey
1 tsp mayonnaise
1 tsp lemon zest
1 tsp lemon juice
1/4 tsp salt
1 tbsp poppy seed
Whisk all the ingredients together.
FYI This dressing also works really well with cole slaw!