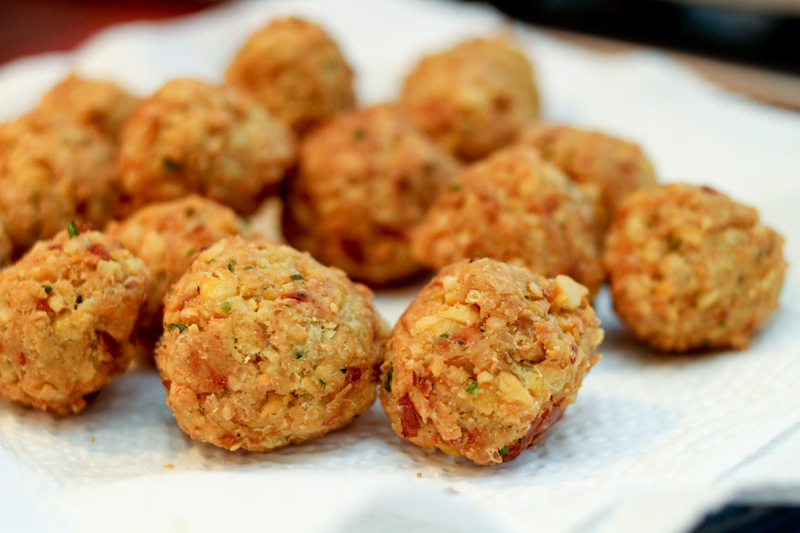 Yesterday I made falafels from this recipe first posted May 2012.
Grab a pita, stuff it with greens and top with a ground cumin yoghurt-based dressing.
Last week some wonderful friends came to our house with bags full of good stuff to make falafels from scracth. How lucky am I, right?! Well, we ended up with chicken in our pita breads instead, because the falafels kept falling apart in the hot oil?! I had never before attempted to make falafels at home. But after last weekend, I was determined to make it work. So here is what I learned is key: most recipes will tell you to soak the garbanzo beans for 18-24 hours, dry them well and then -without boiling them- throw the beans in a food processor or blender and pulse until coarse only. Well, I had already soaked and boiled my beans, so I dried them well, crossed my fingers and it worked 🙂 I am not crazy about frying in an inch deep oil or more, but honestly these babies were so good and besides most of the oil was still in the pot when I was done frying. I will be making these again. For sure.
2 cups soaked, drained, uncooked garbanzo beans (or cooked and dried)
1 small onion, chopped
2 cloves of garlic
2 tbsps chopped fresh parsley
2 tsp ground cumin
1 tsp baking powder
1/4 tsp pepper flakes
1/2 ground coriander seeds
2 tsp salt
1 tbsp tahini (not all recipes include sesame paste, supposedly it acts as a binder)
4 tbsps flour
Oil for frying (neutral flavor like canola)
Dry the beans thoroughly, if they are cooked. Drain well, if they are soaked and uncooked.
Blend or pulse onion, garlic, parsley and beans together only until it resembles small pebbles. The texture should be crumbly and loose.
Transfer to a large bowl and stir in spices, flour and tahini, then combine everything. The texture will still be crumbly.
Grab a spoonful, then squeeze and shape into a ball. Contiune this step and cool the falafels in the fridge while the oil is heating.
Use a small deep pot and pour just enough oil to cover the falafel balls.
To test if the oil is hot enough, stick a wooden chop stick, a wooden tooth pick or the end of a wooden spoon into the oil. Bubbles will appear around the wood when the oil is ready.
Fry about 5 falafels at a time. They are done when they are golden all over. It takes about 3 minutes per batch.
Transfer to a plate with paper towels to drain for a minute before serving.
Yields about 25
Here is a before shot to give you an idea of the texture: