Spicy Meaty Tan Tan Noodles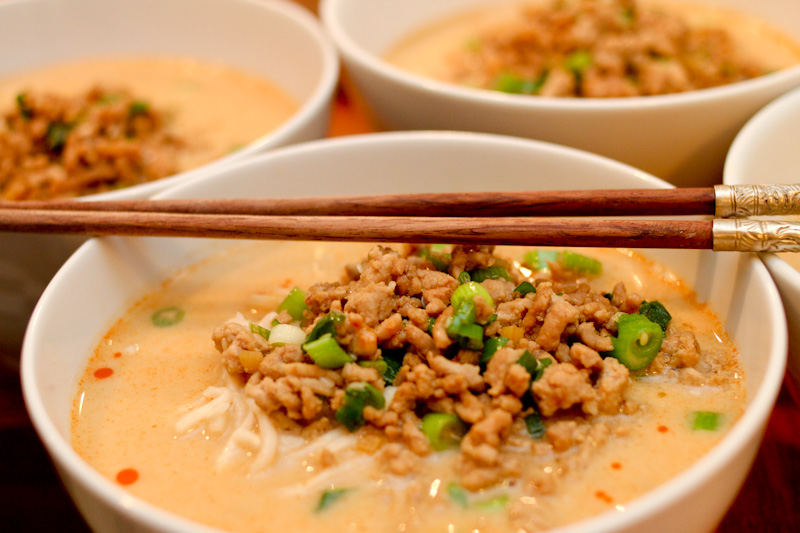 The most time-consuming aspect of this dish, is measuring out all the ingredients used in the soup. If you like asian flavors, I'm pretty sure you'll probably have most of these sauces in your kitchen already. The recipe is adapted from Noodle Comfort – Easy Japanese Cooking. Interestingly though, according to the book, the soup is served cold over hot noodles with spicy meat. I liked it, but it becomes luke warm real fast and is probably better suited for warmer climates. I really liked the flavors and made it again with hot soup and this is the version I will recommend.
9 oz / 250 gr chinese noodles
7 oz / 200 gr ground pork
5-6 green onions
1 inch / 2.5 cm ginger
3 cloves garlic
1 tbsp sesame oil
1 tbsp each mirin, soy sauce and oyster sauce
Salt, pepper and chili oil to taste
The soup
6 cups / 1.5 liter water
5 tbsps tahini
4 tbsps each oyster sauce and rice vinegar
3 tbsps yellow miso paste
2 tbsps each sesame oil and soy sauce
2 tbsps sugar
2-3 tbsps chili paste
2 tbsps roasted white sesame seeds, optional
Procedure
Heat sesame oil in wok over low heat. Chop ginger and garlic and fry until fragrant.
Add the pork, salt and pepper and stir fry the meat while breaking it apart.
Cook the noodles according to instructions.
Meanwhile boil the water for the soup and measure out all the ingredients. Add them to the hot water and stir. The soup should not boil after adding the miso.
When the meat is browned, add the mirin, soy sauce and oyster sauce.
Finely chop the green onions and add to the meat just before serving.
Assemble the dish by diving the noodles in four bowls, then pour the soup and top with the spicy meat. Drizzle with drops of chili oil and serve hot.