Orange Broccoli Salad With Citrus Vinaigrette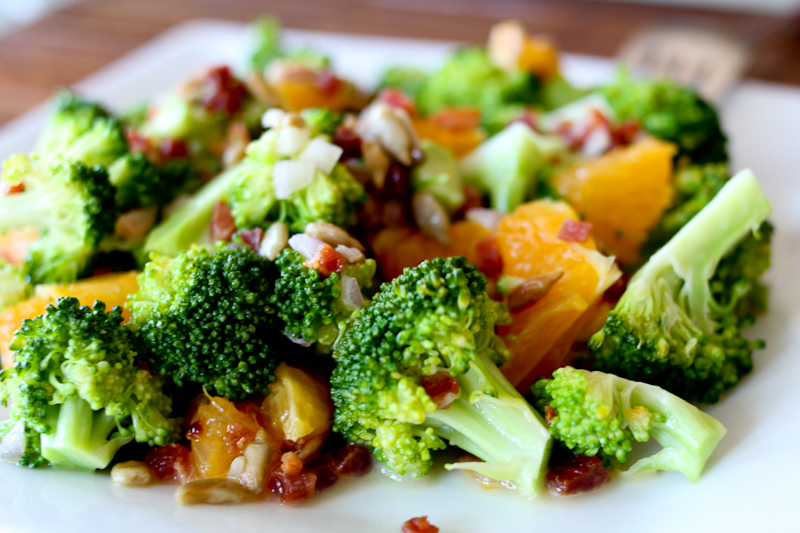 We need citrus this time of the year and I love to use citrus in my food. In this broccoli salad I use both orange and lemon.
1 bunch of broccoli, cut into florets
2 oranges
1 small shallot or onion, finely minced
3-4 slices of bacon
2 tbsp roasted & salted sunflower seeds
Start by frying the bacon and get some salted water boiling in a medium pot.
Boil the broccoli florets until just tender about 3-4 min, then drain.
Cut the fried bacon into small pieces and do the same with the shallots.
Peel the oranges and cut them into bite-size pieces.
Then mix broccoli, oranges, shallots, bacon and sunflower seeds well and pour the citrus vinaigrette over the salad.
Citrus vinaigrette
4 tbsp olive oil
2 tbsp orange juice
1 tbsp rice vinegar
1 tsp mayonnaise
1/2 tsp mustard
1/2 tsp lemon zest
Salt & pepper to taste
Whisk all the ingredients together. I usually put everything in a glass jar with a lid and shake it well. If I don't use it all, the remaining vinaigrette can go straight into the fridge for next time.
Suggestions
Substitute the bacon with whole cashew nuts for a vegetarian version. You may want to leave out the sunflower seeds, if using cashews. If you want to cut time, you can use canned mandarins in place of fresh oranges.