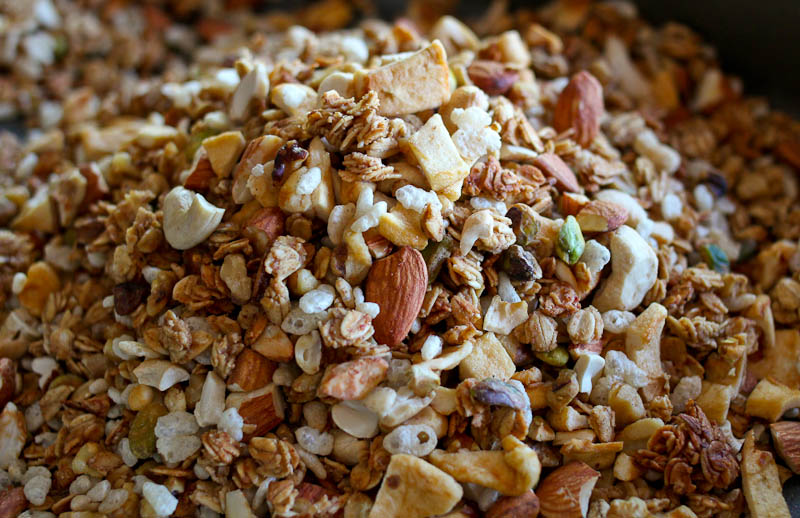 My son woke up at 5 am and demanded breakfast. That is way too early for me! So after he was fed and content, I decided to treat myself to a really good breakfast and I used the quiet morning to create this yummy granola recipe. I'll definitely be making it again. And again.
A small banana
1/3 cup / 80 ml agave nectar
4 tbsp / 40 ml grapeseed oil
1 tsp cinnamon
1/2 tsp salt
10.5 oz /300 gr oats
7 oz /200 gr nuts , coarsely chopped (I used almonds, walnuts, cashew and pistacchio)
2 oz / 50 gr dried apples, chopped
A handful of rice krispies, optional
Preheat oven to 350F/175C.
Blend banana, agave nectar, oil, salt and cinnamon.
Mix oats and nuts and pour mixture over.
Bake for app. 30-40 min. Stir once in a while to ensure even browning.
Add dried apples and rice krispies when done.
Store in airtight container for weeks. Though I bet you it won't last that long!Suggestions
You can really play with this recipe. Use your favorite sweetener eg. honey or maple syrup. Use more if you like it sweeter than I do. Add your favorite dried fruits and nuts. Try different spices eg. vanilla, cardamomme, ginger, nutmeg etc.