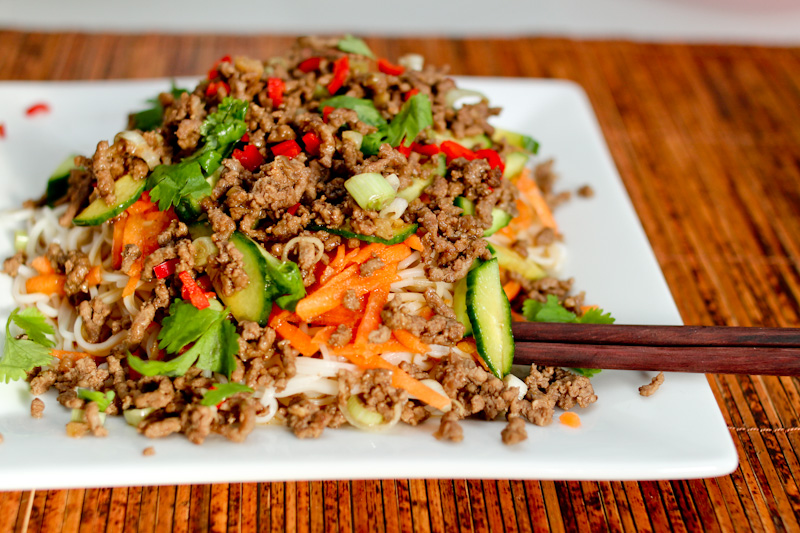 This is the kind of food that makes me happy. I had a moment today, which also made me happy. Long story short, I met a reader at a workshop. As in a real person who knows about and reads my blog. Best moment of the day. If you make this noodle salad, this could be the best moment of your day. High in flavor, low in fat. Who doesn't like that?
Stay tuned for foolproof oat buttermilk pancakes…
1 pound / 450 gr ground beef
1 tbsp sesame oil
1 tbsp soy sauce
1 inch / 2.5 cm fresh ginger
2 cloves of garlic
5 green onions
400 gr rice noodles
2 large carrots, grated
1 small English cucumber, sliced
2 red chilis
A handful of fresh cilantro
Heat sesame oil in a wok or skillet and fry the ginger and garlic until fragrant. Then add the ground beef and fry over high heat until brown. Break up the meat as it cooks.
Meanwhile prepare the veggies by finely slicing the green onions, grating the carrots, slicing the cucumbers, mince the chilis and chop the cilantro.
Add soy sauce and green onions to the meet when browned.
Cook the rice noodles according to instructions.
Let each person assemble their own salad to their liking and dress with soy-sesame dressing.
Soy-sesame dressing
1/4 cup / 60 ml soy sauce
2 tbsps rice vinegar
2 tbsps neutral oil eg. canola or grapeseed
2 tbsps water
2 tbsps sugar
1 tbsp sesame oil
Shake everything in a jar until the sugar is completely dissolved.