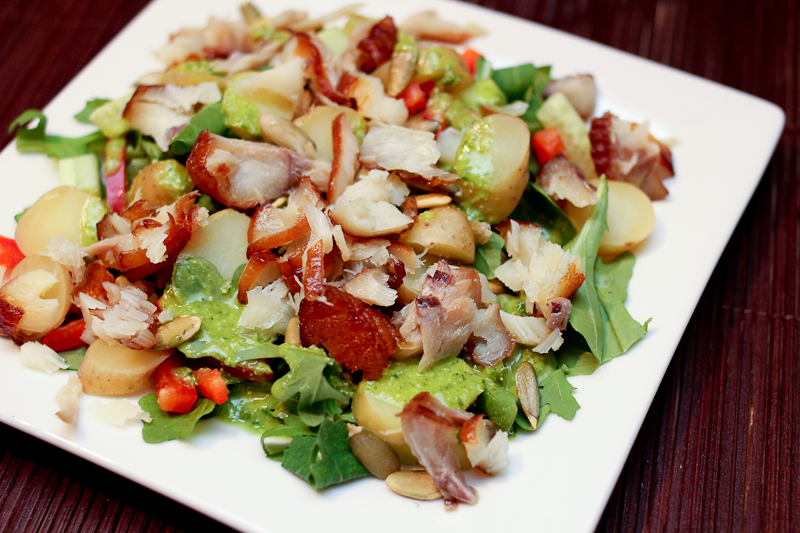 Studies, papers, books, interviews and kids have kept me from posting lately. I have made some very summery and delicious foods and sweets since my last update, though, but I didn't have my camera ready and therefore I haven't captured any appetizing images. So note to self: must have camera charged and nearby at all times and must recook all summer foods worthy of being posted.
Meanwhile here is a repost of one of my favorite summer salads, which I also make with warm smoked salmon.
1 pound small potatoes
4 cups / 1 quart arugula or other greens
1 red bell peber
1/2 cucumber
1/4 cup toasted pumpkin seeds
App 3/4 pound / 350 gr smoked cod or warm smoked salmon
Start by boiling the potatoes.
Meanwhile cut the red peber and cucumber into sticks.
Wash the arugula and put it in a bowl.
Make the dressing below and arrange everything in a big bowl.
You're done. Enjoy!
Parsley vinaigrette
1/4 cup / 60 ml fresh parsley (press it down good)
4 tbsps olive oil
2 tbsps water
1 tbsp rice vinegar
1 tbsp fresh squeezed lemon juice
1 tbsp grated parmesan cheese
1 tsp honey
Salt & pepper to taste
Blend with handheld blender or food process until smooth.