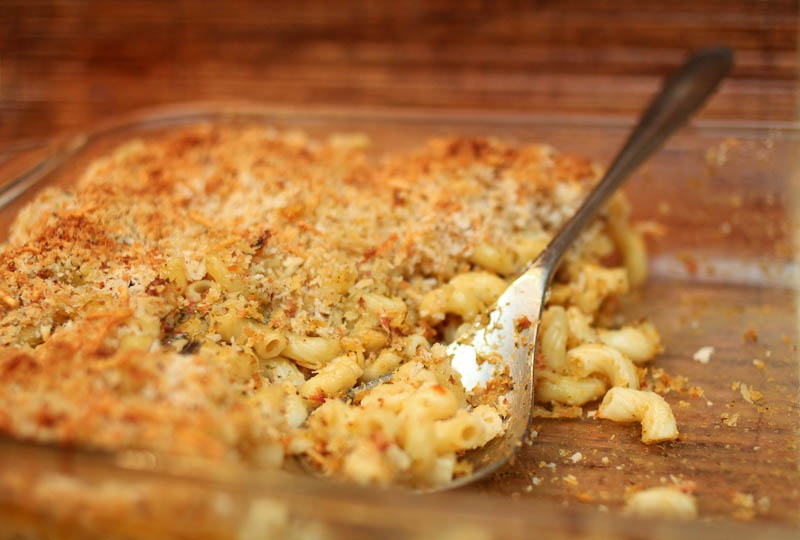 I have been a fan of Jamie Oliver ever since The Naked Chef aired over a decade ago. He keeps impressing me with his simple approach to food and I am amazed with what he has accomplished with regards to bringing fresh-cooked food into all the British schools and his American Revolution reality tv-shows. I hear the next American Revolution show will be set on the streets of Los Angeles with a cooking-school-on-wheels sort of theme. I'll be watching…
This was a long intro to a simple dish. The inspiration is from Jamie's Dinners. I have cut down on the cheese, left out the anchovies, left out sundried tomatoes (not a kids' favorite here), added parsley, cut the bread crumbs in half as well as replaced half of the bread crumbs with almond meal for a nutty flavor and a boost in nutritional value. Almond meal is simply ground almonds. You can make your own in a food processor, just don't mix too long or you will end up with almond butter, which is also delicious, but not in this dish. You can buy almond meal in most super markets or health stores. Store it in the freezer, it will last for months.  Here is my version:
A food processor will speed up the process, chopping by hand will also work.
1 pound pasta in your favorite shape
1 3/4 oz (3/4 cup) / 50 gr bread crumbs
1 3/4 oz (1/2 cup)/ 50 gr almond meal
1 pound ripe tomatoes – plus one extra medium tomato
1 clove of garlic
2 handful fresh herbs (basil, parsley)
1 cup /  240 ml parmesan, shredded – divided in 2
3/4 cup / 180 ml mozarella or other cheese, shredded
1 cup / 240 ml heavy cream
1 cup / 240 ml half & half
1 tbsp white vinegar
1/2 tsp nutmeg, preferably freshly grated
Olive oil to drizzle on top
Preheat the oven to 400F/200C.
Cook the pasta al dente according to instructions.
Mix bread crumbs, almond meal, half of the parmesan, salt & pepper in a bowl.
Chop tomatoes, garlic, basil and parsley by hand or in a food processor. Then add cream, half & half, the rest of the parmesan, the cheese, white vinegar, nutmeg salt & pepper.
Add this mixture to the cooked pasta. Stir well.
Top with bread crumbs, drizzle with olive oil and bake app 15-20 min until the top is golden. Serve with salad or just as it is.
Suggestions
Jamie adds fresh thyme to the topping. That's good too. My family is not into mushrooms, but that would be a hit in this dish. Imagine chunky pieces of different mushrooms. Yum! You can make extra topping and store in the freezer. Save for next time or use as topping for other dishes eg. scalloped potatoes or breaded chicken.