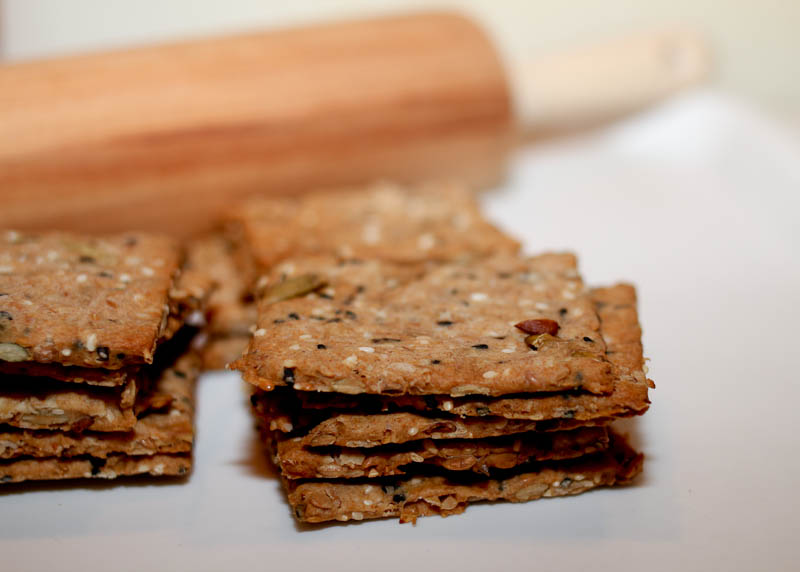 This recipe comes from a Danish friend, Liselotte. We call them "knækbrød" in Danish. It is a crispy cracker full of grains. You can eat the crackers with a topping eg. cheese or with your favorite dip. My favorite way to eat them is simply with a thin layer of butter. Liselotte likes to serve the crackers as an appetizer with caviar dip. You can shape them any way you like. The possibilities are endless.
3.5 oz / 100 ml oats
3.5 oz / 100 ml sesame seeds
3.5 oz / 100 ml flax seeds
3.5 oz / 100 ml sunflower seeds
3.5 oz / 100 ml pumpkin seeds
1 3/4 cup / 3 1/2 dl flour (I used 50% whole wheat)
6 oz / 200 ml water
3.5 oz / 1oo ml oil
1 tsp baking powder
1 tsp fine salt
Preheat the oven to 375F/190C.
Mix all the ingredients well.
Divide the dough in two.
Roll out the dough between two sheets of parchment or waxed paper. The thickness should be app 1/8 of an inch or 3-4 mm.
Remove the top paper and cut the dough into pieces.
Transfer to cookie sheet and bake until golden app 15 min.
When completely cool, store in airtight container for weeks.