Fresh Fennel Chicken Salad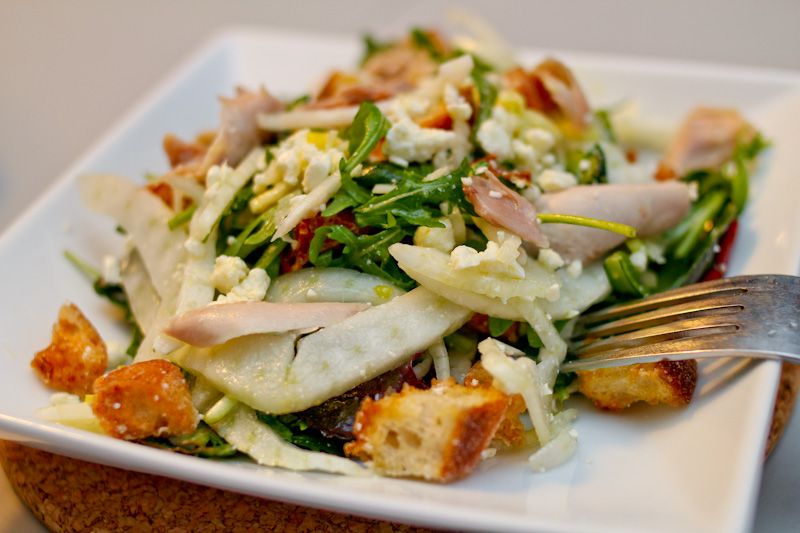 Every other week, I get fresh organic fruits & veggies delivered on my door step. One day there was a large bulb of fennel and before I figured out what to do with it, it had turned bad. I hate it when that happens : (
I guess it's the season for fennel, because the following delivery also contained a large bulb of fennel. Determined to put it to good use this time, I threw this salad together from things I found in my fridge. Usually I photograph my food before I eat, but when I tasted the salad, it turned out so incredibly delicious, that I ate a large serving before I started shooting. I'll tell you this doesn't look like much, but it happens to be one of those salads where all the flavors come together in harmony. Loved it. Give it a try and comment if you agree…
1 large or 2 small bulb(s) of fennel
2 large handfuls of arugula and other mixed greens
1 cup of croutons
1/3 cup feta cheese
2 cooked chicken breasts, sliced or 6 drumsticks, meat off the bone and chopped
3 tbsps olive oil
Juice from 1 lemon
Salt & pepper
Trim and slice the fennel as thin as you can. Preferably with a mandolin, but by hand will work too.
Grab a medium sized bowl and combine fennel with mixed greens, feta, croutons and chicken.
Simply drizzle the olive oil and the lemon juice over the salad. Give a good stir. Sprinkle with salt & pepper and taste. Adjust with more of the dressing, if needed.
Suggestions
I thought of replacing the chicken with white beans for a vegetarian version. I haven't had a chance to try it out. Yet.