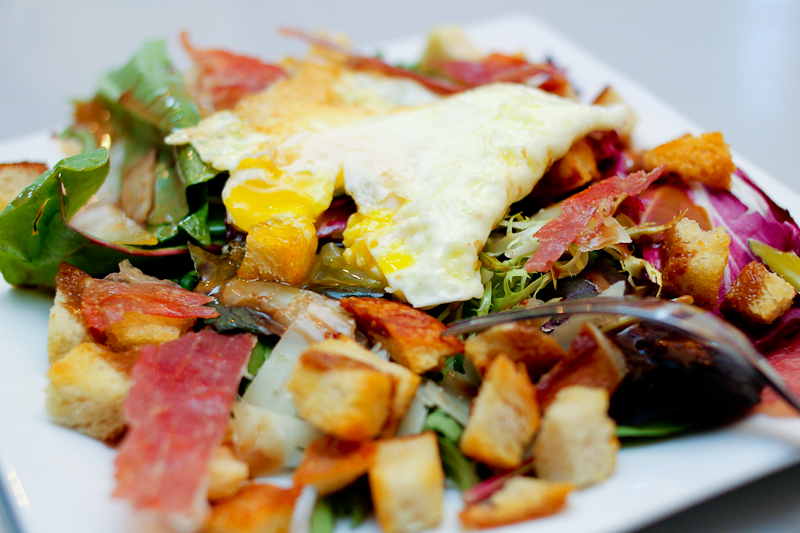 This month Food & Wine magazine features a French theme. I read the magazine just before dinner time and was inspired to make a French bistro dinner using what I found in my kitchen. The French would have used bacon, but as you may know, we always have prosciutto in the fridge. The French would probably have taken the time to poach the eggs, but since I cook for 5, I opted to cook them over easy instead. I made some croutons by cutting 4 slices of sourdough bread into cubes, drizzled them with olive oil and baked the croutons for about 10 min at 375F/190C. Keep an eye on the bread and stir once in a while to ensure even browning. The vote was unanimous – we want this again. So here it is…Oh, I should mention, I made individual servings on account of the over easy eggs. It would have been in a mess in a large bowl.
A bag full of mixed greens
4-6 slices prosciutto
1/2 c / 120 ml Manchego cheese
2 cups / 5 dl croutons
4-6 eggs
Start by making the croutons or use store-bought ones.
Fry the prosciutto slices on a frying pan over medium to high heat until slightly brown. 3-5 min. Put aside on a plate with paper towel.
Arrange a pile of greens on each plate. Divide the croutons and use a potato grater to grate manchego cheese over each plate. Tear the prosciutto in pieces and add.
Grab a large frying pan and fry the eggs in 1 tbsp olive oil for about 1 1/2 min on one side and 30 sec on the other. The yolks should still be runny. I made the 3 eggs at a time. Serve 1 or 2 eggs depending how hungry your crowd is.
Drizzle each serving  with mustard vinaigrette just before topping with the egg.
Serve and eat right away.
Mustard vinaigrette
4 tbsps olive oil
2 tbsps balsamico
2 tsps mayonnaise
1 tsp dijon mustard
Salt & pepper
Put all the ingredients in a glass jar and shake until smooth. Store in the fridge for up to a week, if you have leftover dresssing.