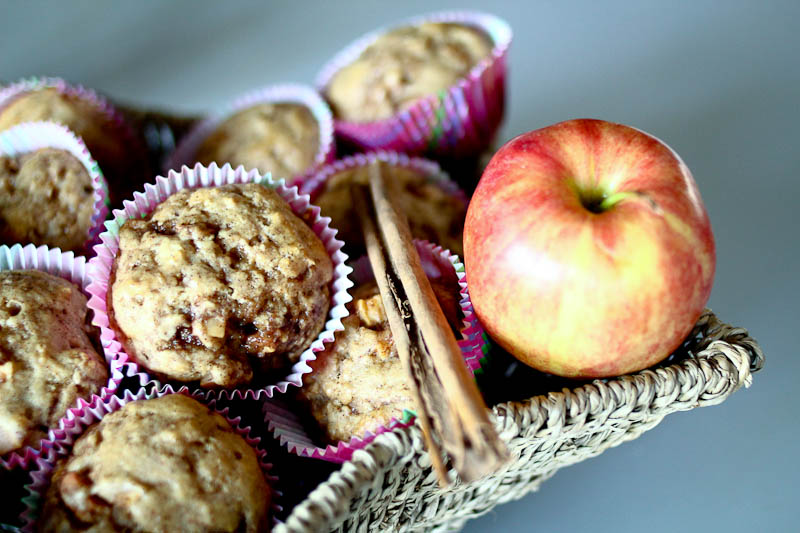 I believe we can all benefit from cutting down our intake of sugar. I splurge on weekends and hold back on sugar during the week. I still like something sweet with my afternoon tea, though. So I created these low sugar, low fat, no dairy muffins. Also great for breakfast or the kids' lunch box.
Special equipment
Muffin pan or muffin cups
2 cups / 5 dl flour
1 tsp baking soda
2 tsp baking powder
1 tsp cinnamon
1/8 tsp salt
1/4 cup / 60 ml sweetener (I prefer agave nectar or honey)
2 eggs
1 cup / 240 ml apple sauce
2 apples, cut in cubes
3 tbsp sugar
2 tsp cinnamon
 Preheat the oven to 375F/190C.
Mix dry ingredients.
Mix wet ingredients and beat well.
Add the dry ingredients to the wet ingredients and mix gently.
Mix the cut apples with sugar and cinnamon and add to batter.
Pour batter into muffin pan or cups and bake for 15 min.
Yields 12 large or 24 small muffins
Suggestions
Add walnuts for crunch. Makes 1 loaf instead of muffins. Due to the low sugar content, the muffins won't brown as much as regular muffins. The browning on baked goods is caused by the caramelization of the sugar. The lower the sugar content, the less caramelization and thus less brown color.