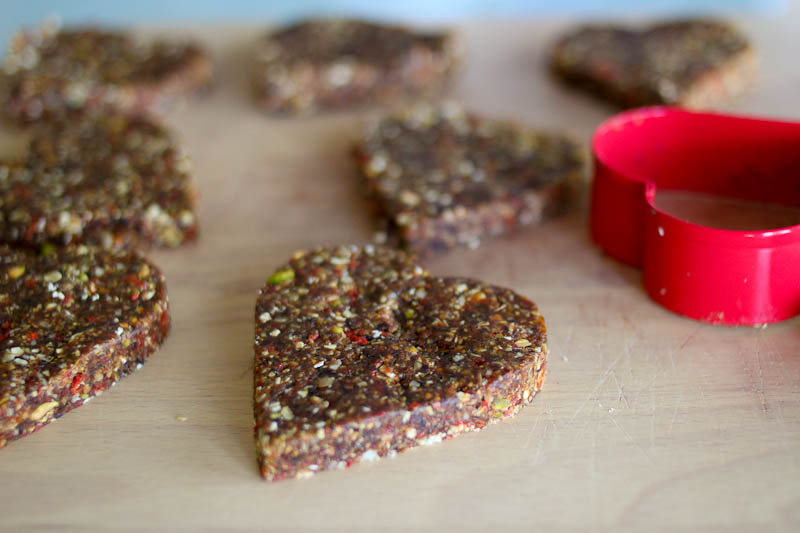 Valentine hearts are all over. The treats we share are usually really sweet and that's fine. It's a special occasion. However, here is a suggestion for a more natural treat. It makes a great morning or afternoon snack as well…Put one of these in your purse and it just may be (a little) easier to say no to the sugar and fat-laden afternoon cake at the office.
Lately, I have been experimenting with baked granola bars. I have tried out a lot of okay bars, but they are not quite what I am looking for. So recently I found this French cookbook "Barres de céréales : muesli et granola maison" and I am pretty excited about testing the granola bar recipes in the very near future. Today I tested these un-baked "raw" version of granola bars. I am not a raw foodie and I don't think that technically the bars qualify as true raw food, because the oats I used are toasted. I guess you could use almond meal instead for a true raw food bar. Well, I adapted the recipe slightly and added a bit of coconut oil and a little water and chose different fruits and nuts. I added goji berries for their vibrant red color and health benefits and cut the bars into heart shapes. Voila, a healthy valentines treat – and when I find the perfect baked granola bar recipe, I promise to share it with you…Happy Valentine's Day!
Special equipment
Food processor
5 1/4 oz / 150 gr dates
3 1/2 oz / 100 gr figs
1 3/4 oz / 50 gr prunes
7 oz / 200 gr mixed nuts & fruits
2 3/4 oz / 80 gr oats
1 tsp coconut oil
2 tbsp water, optional
1/2 tsp cinnamon
pinch of salt
pinch of ground ginger
Mix all the ingredients well in the food processor. Depending on the size of your food processor, you may have to divide the ingredients in 2 portions and blend them one at a time.
Put the granola dough in a dish covered with parchment paper or waxed paper.
Flatten and refrigerate for 2-3 hours or overnight, before cutting into bars or shapes.
Yields 9 hearts or 14-16 bars