Chinese Five-Spice Chicken & Orange Salad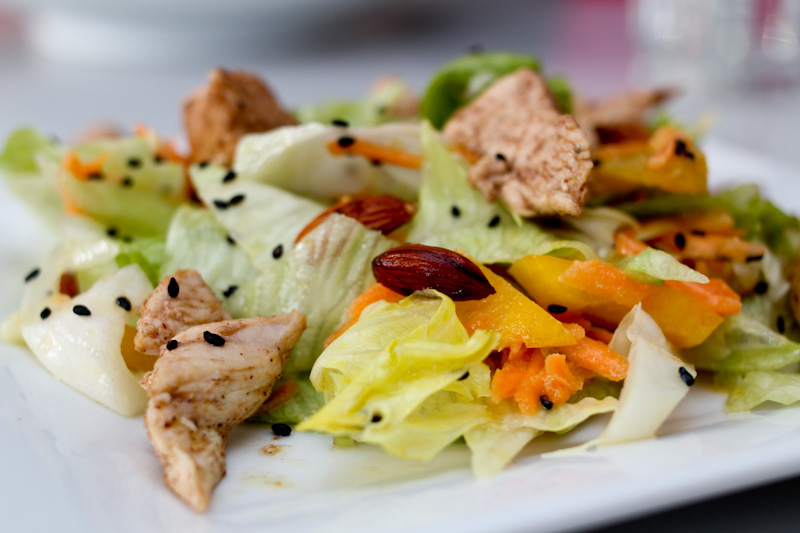 Every diner in California serves a version of Chinese chicken salad. Here is mine. You can make it in less than 30 minutes, which makes it a good healthy choice for weekdays. It is fresh and flavorful. The original inspiration is found in this book, I have tweaked the recipe and added some ingredients.
3 tbsps olive oil
1.5 tsps five spice powder
1 pound chicken breast cut into chunks
3 oranges
1 large romaine or iceberg lettuce
1 yellow pepper, cut into strips
2 large carrots, shredded
2 green onions, finely sliced
1/3 cup / 60 ml almonds
2 tbsps black sesame seeds
Heat the oil and the five-spice over medium heat and add the chicken chunks.
Season with salt & pepper. Stir occasionally and cook until done. About 5 minutes depending on the size of the pieces. Set aside, but leave the skillet.
Meanwhile cut the lettuce, bell peper and spring onion. Peel and grate the carrots. Place it all in a large bowl.
Roast the almonds for a few minutes in the unwashed skillet from the chicken. This will give the almonds some spice.
Cut the oranges into segments and squeeze the rest of the juice over the salad.
Combine everything and dress with mustard dressing.
Mustard dressing
3 tbsps olive oil
2 tsbps rice vinegar
2 tsps dijon mustard
Sweeten with 1/2 tsp honey or to taste
Salt & pepper
Whisk the ingredients together.