Cabbage With Salted Peanuts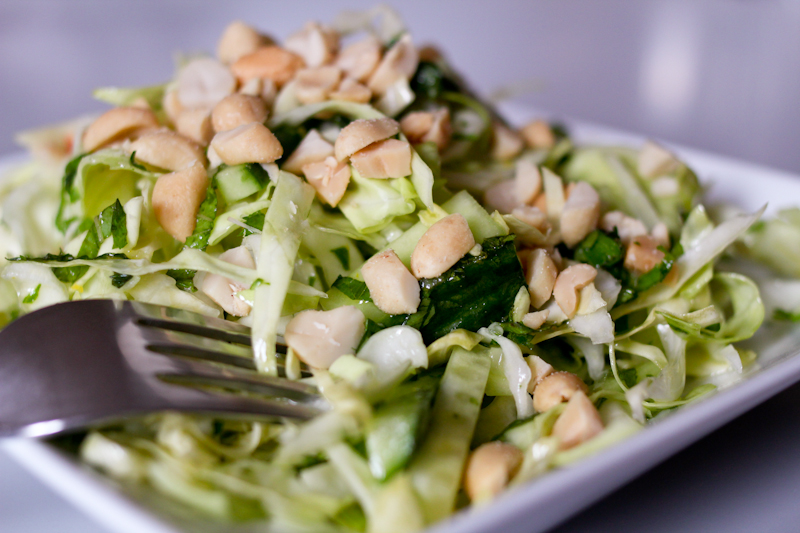 Numerous variations of pointed or cone cabbage or white cabbage with some kind of crunch and fresh herbs has been my preferred side for the past many months. Still is actually. The recipe is so versatile that all you need are these simple suggestions for crunch and fillers and you can take it in any direction you like.
Finely slice the cabbage of your choice.
Add any or all of the following sliced, shredded or cut: cucumber, zucchini, fennel or lettuce such as iceberg or romaine.
Time to add some crunch. Whatever you choose – be sure to roast the nuts or seeds first: salted peanuts, pumpkin seeds, sunflower seeds, pine nuts, sesame seeds, chopped walnuts or almonds.
Finish with a fresh kick from either parsley, basil, chives, mint, dill or cilantro.
The dressing is inspired by the Mediterranean cuisine and consists of extra virgin olive oil, lemon zest and lemon juice. Sprinkle with flaky salt and give it all a good stir before serving.
Tonight I used pointed cabbage, cucumber, mint and salted roasted peanuts. Less is more with dressing in this salad. Try adding grilled chicken breast and feta cheese for a complete meal.  Have fun and enjoy!
You might also like this fresh fennel chicken salad