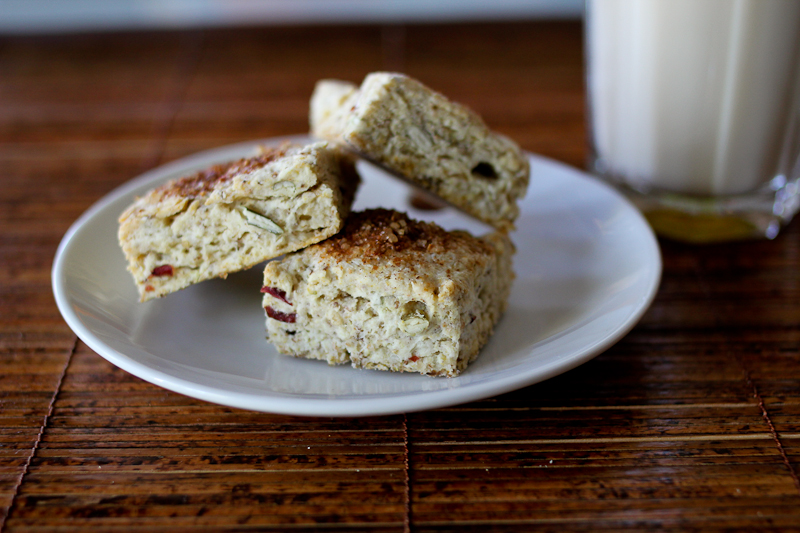 Oh, these are addictive and yes, I had all three. Couldn't stop 🙂
Happy Holidays to all!
3 1/3 cup / 500 gr flour
1/3 cup / 80 ml  ground flax seed
2 tbsps baking powder
3 tbsps cane sugar
1/2 tsp salt
1/4 c / 60 ml dried cranberries
1/4 c / 60 ml pepitas
4 oz / 110 gr butter, cold
1 1/4 cup / 300 ml milk
1 egg or 2-3 tbsps heavy cream for glazing
sprinkle with cinnamon sugar (sugar & gr. cinnamon)
Preheat oven to 400F/200C.
Put all the dry ingredients in a big bowl. Use a whisk to blend.
Cut the cold butter into small pieces and crumble into the flour with your hands.
Chop the cranberries and pepitas and mix into the dough, then pour in the milk.
Gently work the dough together with your hands, so nothing is dry, it shouldn't be too sticky either.  You can add more milk, if it is too dry or more flour if it is too sticky.
Flatten the dough and cut into desired shapes. Brush the scones with either a lightly whipped egg or heavy cream and sprinkle with sugar, if using.
Bake for 15-20 min depending on the size and thickness of the scones. They should be barely golden on top, but golden on the bottom.
Suggestions
You can freeze some of the scones before baking. Then simply thaw and bake when it's time for scones. You can use any kind of milk, from skim milk to heavy cream to soy or nut milks. Add raisins, other dried fruits, nuts or fresh blueberries.